February 2020
Story Time at the Laundromat

Friday, February 14th - Greater Elgin Family Care Center joined Give Me Five! for story time and activities. Children between the ages of 18 months to 13 years old, stopped by to create a Valentine Heart, color pictures and use the magna-tiles. Families were provided with information about the services provided at Greater Elgin Family Care Center and children took home Give Me Five! bags filled with books that were donated from SCARCE as well as coloring books and information about Kindergarten!
South Elgin Park District Preschool Pals Open House

Saturday, February 1st - At the South Elgin Park District Open House, a full group of future families learned about the Preschool Pals program and the ways that Give Me Five! support and collaborate with the program. Families took home a Give Me Five! bag with a book, an EPEL "Getting Ready for Kindergarten" Calendar and so much more!
Gail Borden Readership Panera Milk and Cookies Storytime

Tuesday, February 4th - Give Me Five! stopped by to share the importance message of reading and early literacy and to remind parents of upcoming Kindergarteners to register during the upcoming Kindergarten Registration events. All families in attendance went home with a pipe cleaner activity for older children and a rubber ducky for younger ones!

WIC classes at Well Child Center

Tuesday, February 18th – Advocate Sherman Hospital and The Well Child Center offer Free Prenatal Classes to families that enroll in the WIC. Give Me Five! shared the message to 33 expectant parents that they are a Child's first and most important teacher and and how important it is to talk, sing, read and build a strong attachment to your baby. All parents receive a bag with a book and community resources that are available to them.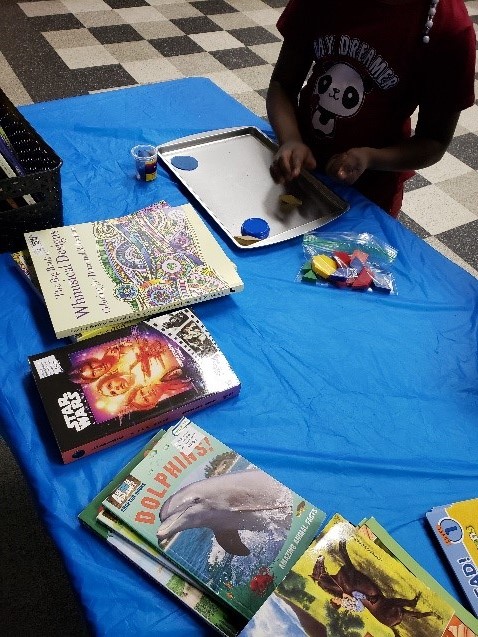 Holy Trinity Church and the Northern Illinois Food Bank's Mobile Food Pantry

Thursday, February 28th - The Holy Trinity Church opened their doors to allow families to wait inside for their opportunity to get groceries. Give Me Five! participated with EPEL to share Early Childhood information and teach parents about how they can use playdough and shape pattern blocks to help children learn through play. Many families were able to pick out donated books, coloring books, and cars from SCARCE and the Gail Borden Library. Adults even enjoyed picking out their own coloring book and colored pencils!
*** You can now follow U-46 Give Me Five! on Instagram! ***