March 2019
Northern Illinois Food Bank Mobile Food Pantry

Tuesday, March 12th, 2019 3:30 pm – 5:30 pm at Squire Village Apartments 1146 Yew Court Elgin. Give Me Five! and Parent Educators from the P.A.T program were available for the 104 families with resources and great information for children and families. Many young children were able to pick out and take books home to read.

Wednesday, March 20th, 2019 4:30 pm. Story time at JetExpress Laundromat. Give Me Five! stopped by with a story and activity for children to do. Parents were invited to join in and learn more about Early Learning opportunities.
Elgin Parent Coop Presentation

Wednesday, March 20, 2019. Elgin Parent Coop Presentation – The Importance of Play. Give Me Five! was invited to present for the March parent meeting at the Elgin Parent Coop. Parents were able to listen and ask questions around why play is so important for young children and how through Talk, Play, Read, Do and Write we are helping our children be ready for learning in Kindergarten. Parents were given a Getting Ready for Kindergarten calendar and how they can use it everyday.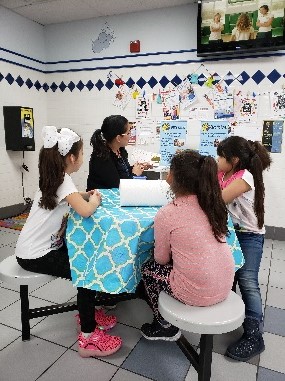 *** You can now follow U-46 Give Me Five! on Instagram! ***