June 2018
Elgin 2018 Summer Lunch Program

June 4th – August 3rd Monday-Friday from 11:30-12:30

In the month of June, some of the activities that children have participated in involved making masks, building with blocks, creating butterflies and listening to stories by guest readers.
Childserv Parent Empowerment Program Graduation

Friday June 15th 11:00

Parents, grandparents and siblings were welcomed to a lunch and program to celebrate 13 graduates of the Child Serv program. Give Me Five! was available with information and resources for families.
Elgin Family Mobile Food Pantry

Wednesday June 20th from 4:30-6:30

Greater Elgin Family Care Center 373 Summit St. Elgin. 162 families participated. Children enjoyed getting a book to take home! 48 children took home a ball with a list of activities of how to use it. 17 Families with young children under the age of 5 took home a Give Me Five! Bag full of information and a book. Remember to bring the bag next time to receive another book!!!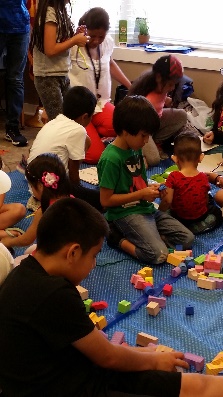 Hanover Township Mobile Food Pantry

Tuesday June 26th, 2018 10:00-12:00

St. Johns Evangelist Catholic Church 502 S. Park Boulevard, Streamwood. Even on a rainy day, the volunteers were lined up with their wagons to help families shop and get their groceries to their cars. Give Me Five! gave books and information to 10 young children along with some bubbles and bouncy balls.