October 2019
Mobile Food Pantry events

Tuesday, October 1st

- Greater Family Care Center and the Northern Illinois Food Bank Mobile Food Pantry at 373 Summit St., Elgin.

Tuesday, October 15th

- VNA and Northern Illinois Food Bank Mobile Food Pantry at 801 Villa St., Elgin

The October Elgin area Mobile Food Pantry events brought groceries to 226 families (992 individuals). These events were made possible thanks to funding provided through the generosity of Elgin Township. Give Me Five! brought a table to display books for children to pick and take home as well as Early Childhood information for parents and grandparents. The books that are distributed are donated by Gail Borden Library, SCARCE and a First Book grant.
Safely Trick or Treat

Friday, October 25th

It was a very exciting evening for over 400 children and their families who dressed up to Safely Trick or Treat at Streamwood Park District. Give Me Five! handed out clapper hands, flying discs and rubber duckies to families that included ways to "learn through play!"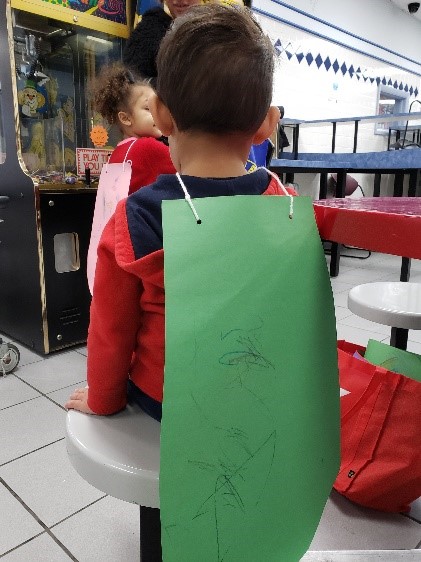 Story time at Jet Xpress

Wednesday, October 30th

Give Me Five! made an unexpected stop at Jet Xpress. With the excitement of Halloween, children made capes and turned into Super Heroes for the day! Everyone took home a Give Me Five! bag and something donated from SCARCE!