Istation Middle of the Year (MOY) progress can be tracked via several reports, a few of which are outlined in this Istation MOY document.
The Social Emotion Wellness (SEW) Continua for Elementary and Secondary have a slightly new look - and also include a new column for Wellness support and intervention at T1, T2, and T3. These can be found in their usual Continuum of Support and Intervention nesting place in the left menu.
Administer the Self-Assessment Survey (SAS) and discover successes and areas to further strengthen as they pertain to your ongoing School Improvement work. The window is now open and will close at the end of January. Here's a refresher on how to administer the SAS, and here is a reminder of how to utilize the SAS data via the reports.
Check out our U-46 Safe and Ready to Learn video. Feel free to use it with kids and families to help establish our return!
Wondering about Progress Monitoring for this fall? The answers to common questions can be found in this Progress Monitoring Fall 2020-2021 FAQ. The tab can be found on the Interventions page in the left menu below, as well as the Frequently Asked Questions (FAQ) tab.
Looking for brief support at your fingertips? Check out our new Video Modules and Tutorials page! The tab can be found in the left menu below.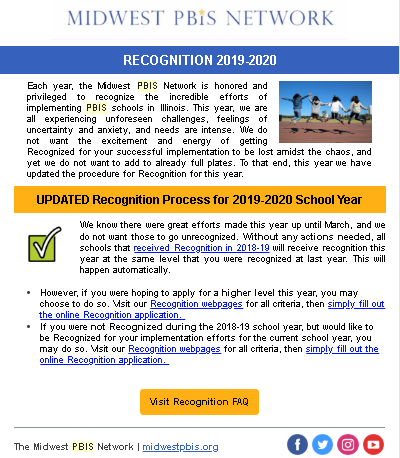 Midwest PBIS Recognition for 2019-2020

Updated Recognition Process for 2019-2020 School Year