Return to Headlines
U-46 Students Head to Future Problem Solvers International Bowl in Massachusetts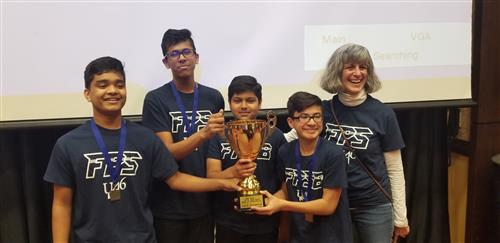 June 3, 2019
Eighteen elementary and middle school students from School District U-46 will compete this week against teams from 13 countries in the Future Problem Solving Program International Conference on the campus of the University of Massachusetts at Amherst. The organization seeks to develop the ability of young people to design and achieve positive futures through problem solving using critical and creative thinking.
The students competing in the international event are all coached by Ellen Smith, who teaches in the 4th grade gifted education program (called IGNITE) at Glenbrook Elementary School in Streamwood. Smith, who recently received the Community Adult Leader of Youth Award from Hanover Township, has been coaching Future Problem Solvers teams for the last five years, and all the students heading to the international competition are her former students.
"I'm so proud of the tradition of excellence in this program that Ellen Smith has created at Glenbrook," said Cheryl DeRoo, Smith's principal at Glenbrook Elementary. "I am excited for our current and former Glenbrook students to get this opportunity and to show their stuff against teams from around the world."
While competing in Amherst, the students will have to tackle potential problems posed by de-extinction, or resurrection biology, the process of resurrecting species that have died out. The competition runs from June 5-9 and draws 2,500 problem solving champions from 37 states and 13 countries.
In Future Problem Solvers, there are three age divisions, and Smith currently coaches teams that compete as Juniors (4th-6th grade) and Middles (7th-9th grade). One team of Juniors placed 1st in the written portion of the Group Problem Solving competition at the state Future Problem Solvers Bowl held in Bloomington-Normal in April — Nikita Muddada, Risha Lakkadi, Mannat Ashta and Yuvan Ganne — and another team of Juniors placed 2nd at the state Bowl — Nishi Sheth, Katelyn Wong, Michelle Cardozo and Svanik Yachavaram. All eight of those students just completed 4th grade in Smith's classroom at Glenbrook.
In Middles, Smith's 8th grade team also placed 1st in state — Mann Sheth, Danyal Sulemanjee, Arjun Sivasankaran and Kush Patel, and they are headed to the international event as well. Those four students just completed 8th grade at Larsen Middle School.
Finally, because of how well the U-46 teams did at state, Smith can bring six other team members along to participate as part of a "MAGIC Team," comprised of four students from four states or countries who compete as a team while at the event. Those students are Saranya Ganne and Sarayu Manne (just completed 7th grade at Larsen Middle School) and Brody Grosenbach, Aarav Patel, Sara Sulemanjee and Brandon Cardozo (just completed 6th grade at Glenbrook Elementary).
Smith said she coaches the District's Future Problem Solvers teams because she believes in the program and its benefits to students. Smith also took six students to the international competition in the summer of 2018; the team that had just completed 6th grade at Glenbrook (including Saranya Ganne and Sarayu Manne, returning to this year's event) finished 9th out of 53 teams, the only team from Illinois to finish in the top 10 for their competition in any division.
"It's a unique program that teaches 21st century skills — critical and creative thinking, problem solving, and decision making," Smith said. "In the five years I've been coaching, I've seen former students continue to use skills they've honed as Future Problem Solvers to be successful in their educational and personal lives."