Return to Headlines
U-46 4th Graders Treated to a 'World Tour' during Elgin Symphony Orchestra Concerts
April 2, 2019
More than 2,000 4th grade students from School District U-46 will attend an Elgin Symphony Orchestra concert at the Hemmens Cultural Center this week. The field trips to hear the ESO "Ainsworth Concerts for Youth" mark the first time in more than a dozen years that nearly every 4th grader in U-46 will be able to experience the wonder of a live ESO performance thanks to the generosity of the orchestra, its supporters, and money set aside in the U-46 budget for transit.
"The Elgin Symphony Orchestra is a phenomenal community partner," said Jaimie Giraldo, U-46's Fine Arts Coordinator. "The ESO puts together lesson materials teachers can use to prepare their students ahead of time and follow up after, to make the full circle of this educational opportunity."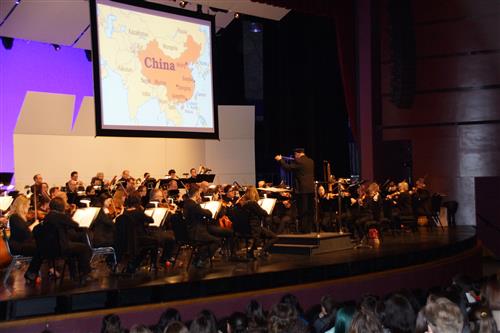 This year's program is the ESO World Tour, highlighting music from around the globe and featuring works by Leonard Bernstein, Li Huanzhi, Percy Grainger, Henryk Wieniawski and Alex Shapiro. Resident Conductor Stephen Squires will serve as the "captain" who "pilots" a program featuring 17-year-old violinist Claire Arias-Kim. Diane Handler, the organization's director of marketing, will serve as the ESO World Tour host/flight attendant.
The ESO provides complimentary tickets to the concerts for U-46 students, made possible with the support of the City of Elgin, the Snodgrass Family Fund, and the Ainsworth Family. In previous years, generous grants from the U-46 Educational Foundation have helped with transportation costs for a large number of U-46 students. But this year, money was budgeted by the District to handle transportation costs for the program, Giraldo said.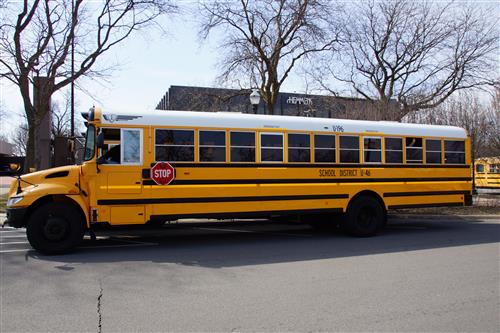 "We target the 4th grade students because they are a little more mature, so sitting in that type of setting can be more impactful for them," she said. "They can focus on the 45-minute concert."
It also gives students in-person exposure to a variety of musical instruments just months before they decide as 5th graders if they'd like to join band or orchestra, she said. "It's a really great opportunity."
At the very first ESO World Tour performance on Tuesday morning, students from Sunnydale Elementary School in Streamwood — some dressed in their "Sunday best" — listened closely to the musical selections, clapping along to African rhythms and shouting "Mambo!" excitedly when instructed by Squires during the excerpt from Leonard Bernstein's symphonic dances from "West Side Story."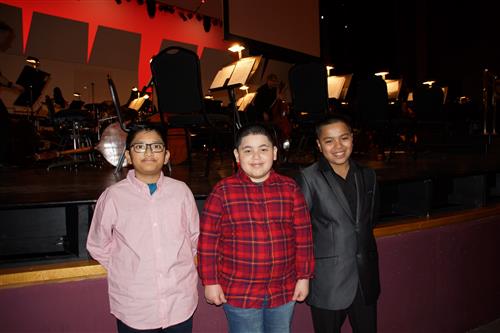 The ESO Ainsworth Concerts for Youth are named in honor of longtime ESO sponsor Sterling "Stu" Ainsworth, who died in 2018.