Return to Headlines
School District U-46 Receives 2018 Value Driven Award of Excellence
Nov. 2, 2018
School District U-46 CEO Tony Sanders and members of the District's Assessment and Accountability Team earlier this week received the Midwest AdvancED 2018 Values Driven Award of Excellence. The District has tapped the non-profit educational institution for accreditation of its five high schools.
The Values Driven Award of Excellence recognizes institutions that systematically model a specific set of values; dream big, stand up for students with a commitment to equity and integrity, be bold and daring, drive potential, be tenacious, and build connections.
"U46 engaged every high school in the continuous improvement process. Dr. Lori Franke-Hopkins, AdvancED Regional Director. "Public schools are not required to participate in any Accreditation protocol; however, School District U-46 and school leaders were interested in improving and willing to take risks, welcoming outside administrators and educators to immerse themselves in each high school's landscape to determine to what extent the full potential of each student is being met. Courageous leadership was observed throughout all five high school reviews."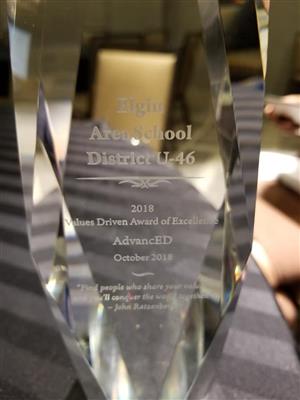 Elgin High School has been accredited since 1904. Each high school that was added in the District has earned accreditation upon their inceptions and renewed as needed. All five high schools earned accreditation again through AdvancED last year. The non-profit organization conducts rigorous, on-site reviews of a variety of educational institutions. Nominations for this award were received from a variety of sources including volunteers, Engagement Review team members, lead evaluators, field consultants, AdvancED Advisory Committee members, and staff.
The award was presented Tuesday at the 2018 Midwest Region Fall Conference in Schaumburg. CEO Sanders was joined by Laura Hill, Director of Assessment and Accountability and Lisa Jackson, Coordinator of Assessment and Accountability.
"The Assessment and Accountability Department and I were proud to accept this award on behalf of all of our school teams and their thoughtful work to continually reflect and improve their practices," said CEO Sanders. "District U-46 has valued this process for more than a century and we're honored to continue the work today."