Return to Headlines
School District U-46 Demonstrates Appreciation for Veterans with Special Events
Nov. 7, 2018
"I was proud to be a soldier. I fought for that flag," said Amador "Johnny" Vargas as he pointed to the American flag hanging in the corner of Veronica Aristeo's fifth grade classroom.
Mr. Vargas is a 90-year-old veteran of the Korean War who visited Mrs. Aristeo's Dual Language classroom this week at Garfield Elementary School in Elgin.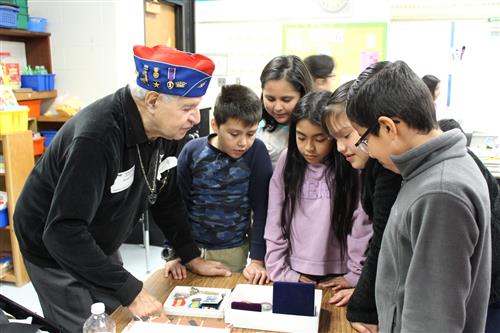 Students and staff in School District U-46 will support and honor local veterans and troops with special ceremonies, concerts, breakfasts, and assemblies during the month of November. In addition, dozens of local veterans like Mr. Vargas are visiting schools across the District this week and next to talk to students about their service and their lives as part of the Veterans Voices program being held in partnership with the Gail Borden Public Library.
"By welcoming these veterans into our classrooms, the students get to learn about American history from a very personal perspective, and to better understand the sacrifices that members of the military make," said Chief Executive Officer Tony Sanders. "At the same time, it's a wonderful way for our students and staff to have a chance to express their appreciation, in person, for the veterans' service."
Tish Calhamer, the community engagement manager at the Gail Borden Public Library, is working with 40 volunteer veterans who will visit more than 100 U-46 classrooms. Veterans who may want to participate in future events are encouraged to visit gailborden.info/veterans to learn more and submit a volunteer application.
"This program draws on the power of personal stories, and reminds students that history is all around them," said Calhamer.
During Mr. Vargas' visit to Garfield, he played his trumpet (selections included "America the Beautiful" and "Taps") and invited the students to try out the instrument too.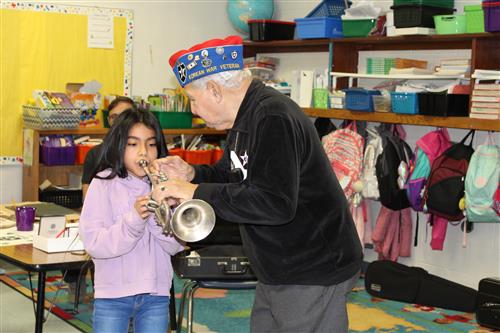 He demonstrated the daily stretches and exercises that he credits with keeping him a spry 90 year old, and explained to students who crowded around his medals the significance of each one, including his Purple Heart.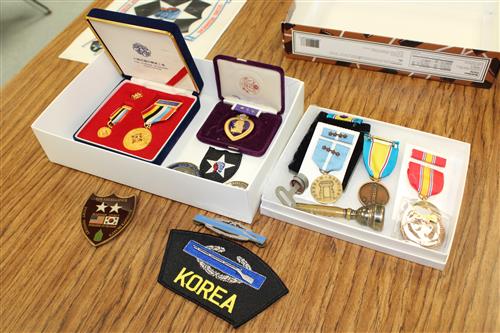 Mr. Vargas, who lives in Elgin with his wife Maria, kept most of his visit lighthearted, with lots of jokes, plays on words, and music. When a student asked if he would serve in the military again, he replied "No … I'm too old."
But they did learn about how he grew up in a large Mexican-American family in Chicago's Little Italy neighborhood. Mr. Vargas was drafted into the Army, serving from 1951 to 1953 in the 2nd Infantry Division's 38th regiment. He described how patrols were organized, how soldiers would take turns in foxholes - one sleeping while the other would be on guard, and he spoke with pride about his division's reputation as one feared by the soldiers on the other side.
Each of the students in Mrs. Aristeo's class wrote Mr. Vargas a personal thank you note, and he read many of them aloud during the class. The students listened quietly as Mr. Vargas spoke and eagerly shot up their hands to ask him questions. He accompanied them on his trumpet when they sang for him "The Army Goes Rolling Along," the official song of the U.S. Army.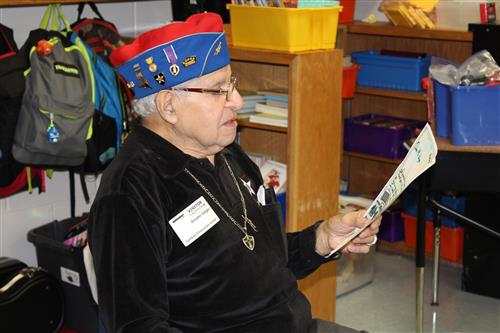 Mr. Vargas learned to play the instrument as a child, and after he returned from military service (as a corporal) he had his own band. As a retiree, he found his musical talents in demand playing "Taps" at military funerals, and in a moment during which he got wistful, he described for the students how he prefers to play the song, slow and drawn out.
"When I play 'Taps" I think of all my buddies I lost in Korea, and I put a lot of feeling into it," he said. "I want people to feel the emotions I feel."
Before he left, Mr. Vargas shook the hands of each student in the class - often giving them a playful pat on the head - and the students asked Mr. Vargas to return and visit them next year.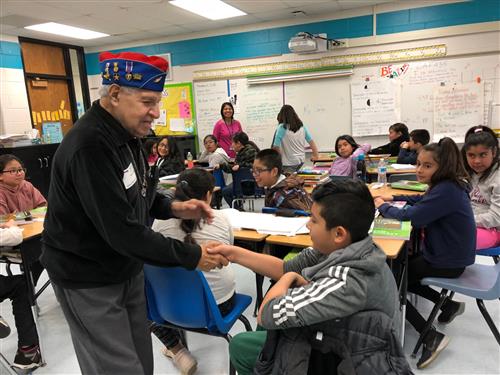 Additional Veterans Day events are as follows:

Prairieview Elementary
285 Mayflower Lane, Bartlett
Thursday, Nov. 8 at 1:15 p.m.
Veterans Day assembly featuring Scouts serving as the color guard

Larsen Middle School
665 Dundee Ave., Elgin
Friday, Nov. 9 at 8 a.m.
Breakfast for veterans in the library, followed by an all-school assembly with the EHS band performing and two guest speakers

Lords Park Elementary
323 Waverly Drive, Elgin
Friday, Nov. 9 at 8 a.m.
Breakfast for veterans, and a chorus will perform a medley of songs to honor them. Veterans will visit classrooms to talk to students and answer questions.

South Elgin High
760 E. Main St., South Elgin
Friday, Nov. 9 at 8 a.m.
Veterans Day ceremony

Heritage Elementary
507 Arnold Ave., Streamwood
Friday, Nov. 9 at 8:30 a.m.
Veterans Day ceremony

Liberty Elementary
1375 W. Bartlett Road, Bartlett
Friday, Nov. 9 at 8:45 a.m.
Veterans Day breakfast and celebration

Canton Middle School
1100 Sunset Circle, Streamwood
Friday, Nov. 9 at 9 a.m.
For each dollar a student or staff member donates the week of Nov. 5, they will receive a strip of paper to honor, remember or thank a service member. The goal is to fill the halls of Canton with a "Chain of Thanks." During a Nov. 9 assembly, the donation will be presented to Salute, Inc., the Canton Band will perform, and the school will honor the veterans in attendance.

Kenyon Woods Middle School
1515 Raymond St., South Elgin
Friday, Nov. 9 at 9:15 a.m.
Musical salute to veterans and a panel of veterans and active members of the armed forces talking to each social studies class throughout the day

Bartlett High
701 Schick Road, Bartlett
Friday, Nov. 9 at 9:18 a.m.
Veterans Day assembly

Willard Elementary
370 W. Spring St., South Elgin
Friday, Nov. 9 at 1 p.m.
Veterans Day assembly

Kimball Middle
451 N. McLean Blvd., Elgin
Friday, Nov. 9 at 2:30 p.m.
Veterans Day assembly featuring the Elgin VFW, a color guard, and discussion of flag etiquette

Clinton Elementary
770 Mill St., South Elgin
Friday, Nov. 9
Students have written "thank you" letters to veterans, collected candy for troops, and designed a "Wall of Honor." Students and staff are urged to wear red, white, and blue on Friday.

Elgin High
1200 Maroon Drive, Elgin
Friday, Nov. 9
Lunch and performance by members of the EHS band honoring current veterans on staff, in addition to a display outside the main office.

Nature Ridge Elementary
1899 Westridge Blvd., Bartlett
Friday, Nov. 9
"Operation Gratitude" will collect candy to send to troops

Larkin High
1475 Larkin Ave., Elgin
Friday, Nov. 9 through Monday, Nov. 12
A display outside the Deans' offices will honor Larkin's veterans and active-duty military.

Creekside Elementary
655 N. Airlite St., Elgin
Monday, Nov. 12 at 11:30
Visit from a Veterans Voices speaker to Mrs. Weber's room

Hawk Hollow Elementary
235 Jacaranda Drive, Bartlett
Monday, Nov. 12
Veterans Day celebration
Hillcrest Elementary
Monday, Nov. 12
During the building-wide "Morning Meeting," teachers will lead their students in close reading activities, creating a timeline regarding the history of Veterans Day, and writing "Thank You" letter to veterans to post by their classrooms.

Ronald D O'Neal Elementary
510 Franklin Blvd., Elgin
Monday, Nov. 12
As part of the school's "Socks for Soldiers" drive, new socks can be dropped off at the O'Neal front office. Donations will be given to the Elgin American Legion.

Spring Trail Elementary
1384 Spring Valley Drive, Carol Stream
Monday, Nov. 12
Students and staff will be encouraged to wear red, white, and blue.

Sycamore Trails Elementary
1025 Sycamore Lane, Bartlett
Tuesday, Nov. 13 at 8:30 a.m.
Veterans Day assembly

Garfield Elementary
420 May St., Elgin
Friday, Nov. 16 at 8:45 a.m. and 9:45 a.m.
Students will perform a musical program to honor veterans.

Fox Meadow Elementary
1275 Jenna Drive, South Elgin
Through the first half of the month
Students will write "Thank You" letters to veterans in nursing homes.