Return to Headlines
Dr. Ushma Shah Named 2019 Education Leader by YWCA of Elgin
May 9, 2019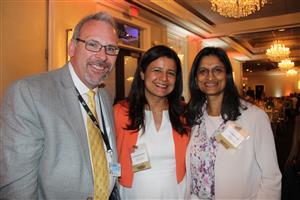 The YWCA of Elgin Thursday afternoon named Dr. Ushma Shah as its 2019 Education Leader for demonstrating a student-focused commitment to excellent and equitable instruction over the past 26 years.
Dr. Shah oversees half of the district's 42 elementary schools but has at times managed all 40 pre-K-6 elementary schools serving more than 20,000 students, the Department of English Language Learners, the Department of Early Learners and the Office of Assessment and Accountability since 2011. Dr. Shah is a co-founder of the Illinois Coalition of Equity Leaders and serves or has served on many statewide education boards.
CEO Tony Sanders nominated Dr. Shah, saying her decision to work in a District where nearly 60 percent of our students are from low-income families and 32 percent are English Language Learners is intentional.
"Dr. Shah stands out as one of the strongest advocates for equity in the PreK-12 setting," Sanders wrote in his nomination. "I can count on Dr. Shah to challenge me and my entire administration to think deeply about any subject. She continually challenges our team to provide the comprehensive system-wide supports that will help improve instruction across our District. I am always grateful for her voice and perspective at our table."
The YWCA Leader Luncheon provides business, industry, and other community organizations an opportunity to honor women volunteers and employees by recognizing their leadership and contributions.
In addition to Dr. Shah, State Senator Cristina Castro nominated Coleman Elementary School Assistant Principal Andrea Gaitán Bustos.
Andrea Gaitan-Bustos is the Assistant Principal at Coleman Elementary School in School District U-46. As an educator, she develops school curriculum and coordinates activities, has supported 28 dual language elementary school programs, has implemented interventions and progress monitoring, etc. She's actively involved in the community organization, Somos Columbia, and is a mentor for Keeping the Promise Foundation, a program offering scholarships to middle school students wanting to succeed in High School.
Dr. Shah is a 2000 Graduate Fellow at Harvard University's Urban Superintendents Program, 1999 Golden Apple Teacher Finalist, recipient of a National Endowment for the Humanities Fellowship in 1998 and, in 1996, a Fulbright-Hays Summer Fellowship. Dr. Shah earned her bachelor's degree in educational studies and anthropology at Knox College, her master of education in curriculum and instruction at the University of Illinois at Chicago, and her doctorate degree in the Urban Superintendents Program at Harvard University. She is fluent in English and Gujarati and speaks and writes in Spanish at a beginning level.
Dr. Shah was hired in 2011 as the District's Chief of Equity and Social Justice where she led the design of a new principal evaluation system which included quantitative student growth measures and which had equity practices embedded in the performance rubric. The following year she was promoted to the Assistant Superintendent of Elementary Schools and in that role she has at times managed all 42 pre-K-6 elementary schools serving more than 20,000 students, the Department of English Language Learners, the Department of Early Learners and the Office of Assessment and Accountability.
She has served as a teacher, principal and as an educational consultant. Dr. Shah's experiences include working in the Chicago Public Schools, San Francisco Unified School District as well as in the alternative school setting with a focus on working with principals and school leadership teams to improve classroom instruction and student performance results by building internal capacity for professional collaboration, data-informed decisions and ongoing reflection.
As noted, Dr. Shah is one of the founders of the Illinois Coalition of Educational Equity Leaders (ICEEL). ICEEL is a non-partisan group of PreK-12 educators and administrators committed to advancing educational equity for all students. She is a Grand Victoria Foundation Board Member. She has served on the Advisory Board of Advance Illinois, an independent policy and advocacy organization that works toward a healthy public education system. She has also served on the Illinois Advisory Council on Bilingual Education.
Mr. Steve Burger serves as the other Assistant Superintendent of Elementary Schools, Instruction and Equity and works alongside Dr. Shah each day.
"She doesn't live in the status quo," Mr. Burger said. "She's always looking for that next opportunity of growth and new learning and bringing that to the 42 principals and 17 assistant principals that she supervises and supports in the elementary office."
Dr. Shah is dedicated to building the capacity of leaders. She sets a tone of collaboration and reflection with all those she leads and serves in order to improve outcomes for students. She works to design and implement strategies to improve instruction for all students through teacher collaboration, learning-focused coaching, standards-driven instruction, dual language education and an explicit shift to practicing a "growth mindset." She values and supports the growth of early childhood education in our District.
"She's not a cite-and-checklist leader," said Lori Brandes, Principal at Washington Elementary in Elgin." She's a reflective partner that really helps us understand our roles and how we in turn can transfer that and have conversations with our teaching staff. She helps us step back and understand - and she listens!"