In a recent conversation, Noe Velazquez was talking about how things were going at Lords Park Elementary School in Elgin, where he is in his first year as principal.
Velazquez spoke about his great team, and their continuous efforts to lead through a culture of excellence. He talked about the importance of being reflective and thoughtful. He discussed constructing a foundation based on integrity and professionalism.
Velazquez said his approach can be summed up through the African proverb that says `If you want to go quickly, go alone. If you want to go far, go together.'
"That is what we're doing at Lords Park," Velazquez said. "We're going to go far and we're going to have to do it together."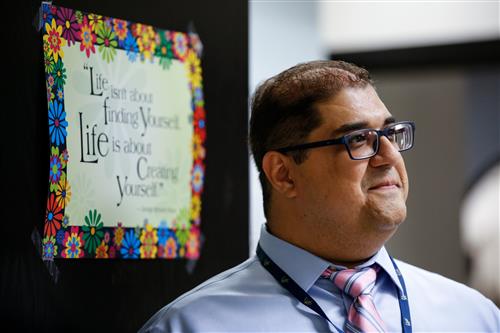 Velazquez has also gone far, though not necessarily in terms of geographic distance. Although he is a new principal, Velazquez is a veteran District U-46 educator. And years before that, he attended District schools.
Velazquez's parents immigrated from Mexico and settled in the Elgin area in the 1970s, and he attended Garfield and Highland elementary schools. Velazquez remembers Rita Weber, the first-grade teacher who taught him to read and Ms. Weber remembers her former student as well.
"Noe was a very sweet, happy boy who was kind to everyone. He was a student that I remember as eager to learn and eager to please," Weber said. "As a teacher you have students who touch your heart in a special way and Noe was definitely one of them! When I learned he was working in U46, I thought how lucky we are to have him in our District."
Velazquez went on to Kimball Middle School and then Larkin High School where he was class president all four years. In the role, he says, he first learned to apply his parents' emphasis on servitude. "That idea," Velazquez said, "that leadership is not about me, it's about we."
Velazquez, always curious and interested in science, earned a bachelor's degree in geology and environmental geo-science at Northern Illinois University and soon landed a job with the Illinois State Water Survey.
Though he liked the job mapping groundwater levels in Kane and Kendall Counties, his curiosity and love for kids led Velazquez to his next job as a paraeducator in a local school district. He instantly felt a connection to the students and to the fast pace, the critical thinking and problem solving needed to successfully run a classroom.
He came home to U-46 in 2004 and for the past 15 years he has served as a teacher and administrator, and earned two masters' degrees. He continued to serve on various school and District committees and has served since 2013 as a facilitator in the District's African American and Hispanic Parent Leadership Institutes.
Now, he's administering a school in his own District.
"You can't help but see yourself through the eyes of the children in your school," Velazquez said. "That kid in the glasses is just like I was, and those parents bringing their children to school are like my mom and dad."
And for each family, his mission is clear: "To ensure they have everything they need to become whoever they want to become."