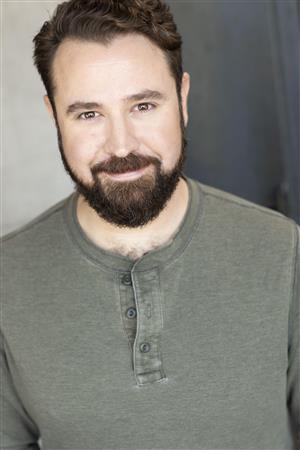 It's not the size of the dog in the fight, the saying goes, it's the size of the fight in the dog.
The size of the fight in 2005 Larkin High School graduate Tony Pellegrino is considerable, and he has the resume to back it up.
In fact, Pellegrino, an actor and 2005 Larkin High School graduate, spent seven summers, from 2012 to 2018, as part of By the Sword, the in-house stage combat troupe for the north-suburban summer staple the Bristol Renaissance Faire.
"While I was a part of that troupe, I was an actor, fighter, choreographer, and at one point the assistant director and fight captain for the troupe."
Fight captain?
"Yes, my primary function was to ensure the safety of every bit of the choreography that happens during a performance. You'll find fight captains in any type of situation that involves fighting in any show."
Pellegrino has taken his fight to the stage as well, performing a variety of roles with the Alabama Shakespeare Festival, among other venues. In fact, during the course of this conversation, he was on his way to audition for another Shakespeare festival in Utah.
"These are huge, huge regional theaters and they're incredibly well respected, and they exist in areas of rich cultural and historical significance," he stresses.
Pellegrino has also worked for the past two-and-a-half years with Locked Into Vacancy Entertainment, acting in old-style radio shows. "It's in the style of those 1920, '30s, '40s radio shows. We kind of zip back to that era. We have a World War II serial, an Abbott Costello-type serial, and a soap opera-style serial in the '70s tradition, like "General Hospital," or "All My Children."
"It's a comedy-based troupe, we perform in front of a live audience at Stage 773 in Chicago. We record the performances and they're available as a podcast on the troupe's website, lockedintovacancy.com, as well as Spotify and iTunes.
In addition to this, Pellegrino has also hosted a satirical video game review show called "Split Screen" under the auspices of the satirical news website The Onion.
Pellegrino has kept a day job in doggie day care, something he describes as "rich and deeply enjoyable work," but "being an actor, that's my primary focus now."
Pellegrino cites his work in the Larkin Visual and Performing Arts Academy as being instrumental to helping him find his role in life. He sang in the choirs, performed in the school musicals, and even worked in the community with the Elgin Theater Company.
"I was not a great student academically, but I found that what I lacked in science, math and history, I made up for by excelling in the arts," he said. "And it stuck. It took me a while, but I learned that I had to be prepared for anything. Nothing was going to be handed to me. I had to strive for what I wanted.'
Along the way, he became a better student, moving from a 2.2 high school grade point average (GPA) to a 3.5 GPA when he graduated Illinois State University.
He looks back fondly upon his teachers in the academy, including Holly McNeill, Tim Bayler, Sandy Buccheit, Senor Eduardo Hernandez, and choir teacher, Ms. Smentowski.
"Sandy Buccheit was my teacher my freshman year, and after my freshman year, she retired. One of the things that stuck out about her was just how much she cared about the students she worked with. For Christmas, we did a secret Santa thing for the freshmen. We had an uneven number of students. When we drew names, I was the odd man out and I was not chosen. And she took it upon herself to pick my name. She gave me a VHS copy of the movie 'Rudy,' and she gave me a note, something along the lines of, "Just because you're an underdog now doesn't mean you'll be an underdog later in life."
Thanks in part to his time at Larkin High School, Tony Pellegrino, underdog or not, is still in the fight.