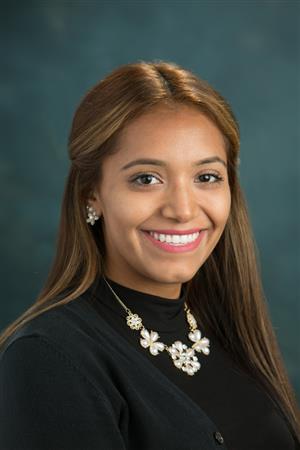 Joceline Jimenez works as a User Experience designer for pharmaceutical company AbbVie, located in Chicago's north suburbs. She and her fellow team members are responsible for designing clean and functional IT applications, ranging anywhere from supply chain applications used to track products globally, as well as R&D applications that help scientists analyze clinical trial data.
"We're responsible for interviewing the end user to ensure we understand their need for the application and how it will add business value and efficiency to their day-to-day responsibilities," Jimenez explains. "The best part is actually getting to see the look on the end user's face when they can just use the application without me having to explain it. That's when I know we did a good job."
A 2011 Streamwood High graduate, Jimenez credits her time in the World Languages and International Studies Academy with pointing her in the right professional direction. The Academy, she says, "introduced me to the business world and opportunities within that business community. It gave me an introduction to what a business career entails."
After graduating from high school, Jimenez finished her general course work at Elgin Community College in two years, and then moved on to Northern Illinois University in DeKalb to finish her degree in Information Systems. "From that," she says, "I decided I wanted to do IT. It was a growing field, and I felt it would have the most security and that I would be able to continue growing and learning."
Upon graduation from NIU, Joceline applied for an internship with AbbVie in 2014, and was chosen from among hundreds of applicants nationwide. In 2015, she accepted a full-time position within AbbVie's IT Development Program, a two-year program made up of three eight-month rotations with potential for international assignments. The development program is a graduate program designed to enhance leadership capabilities, expand functional skill set and help pave the way to ultimate career goals. Joceline had rotations in Security, Research and Development, and U.S. Commercial Finance. One of her most memorable projects was designing an app that reminds patients to take their medication.
Now a development program graduate, Jimenez's work continues to take her to places across the globe. Over the past three years, she has worked in Ludwigshafen, Germany, Rome and Campoverde, Italy. "It was so much fun. I learned endless things about myself, about what it truly takes to be independent, and about the many different cultures and opportunities available worldwide," she says. "But working at home in the U.S. for Abbvie is also quite appealing."
Jimenez loves working for AbbVie, which was part of Abbott Labs until 2013.
"I love the culture; it's very modern and up-to-date. It doesn't feel as corporate as some of the other places where the people I've talked to work. It's transparent, agile, and flexible. I can work from home, wear jeans to work, and I feel empowered to make my own decisions."
Jimenez is currently pursuing her MBA with a concentration in Business Intelligence from Keller Graduate School of Management, and she plans to continue to grow within AbbVie and make an impact on patients' lives. She ends on a positive note, sharing her strong belief that AbbVie will find the cure to cancer during her time here.