For many people, it's not unusual to put on a few pounds or more after graduating from high school. For Brandon Hendrickson, it turned out to be about 70 pounds.
But it was pure muscle.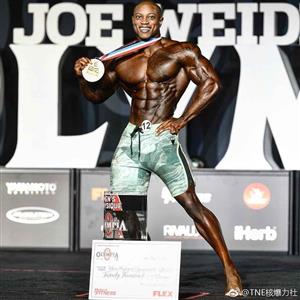 Hendrickson, a 2005 Streamwood High School graduate, has pumped his way to a career as a professional bodybuilder, winning titles around the world, including a first place in the 2018 Mr. Olympia competition in Las Vegas.
Brandon transformed himself from a 145-pound skinny kid who wrestled, played football and sprinted for the track team into a sculpted 210 pounds of muscle. He said he had a simple motivation.
"I didn't want to be a small guy – I just wanted to be bigger," he said.
The idea of becoming a bodybuilder had been germinating, but it took a while before Brandon seriously dedicated himself to his sport beginning in 2012. In the meantime, he attended Southern Illinois University, did some modeling, and earned a degree in healthcare management.
That led to a position at Central DuPage Hospital as a hospitality manager. But when Brandon entered his first bodybuilding competition – taking second place – he knew he'd found a new career.
He took first place in the 2016 Arnold Classic, a competition which is hosted by Mr. Schwarzenegger himself. That same year Brandon took fourth in the Mr. Olympia competition. He improved to third the following year and captured the crown in 2018.
Brandon competes in the men's physique category. It's for athletes who are not trying to obtain the extreme muscularity traditionally associated with bodybuilding, but instead are seeking balance and symmetry in appearance.
Brandon gets his results by spending three hours a day working out and through diet. No steroids, he said. His own career has been helped by a coach, and Brandon is now working with clients who are bodybuilding.
"My passion has turned into me showing others how to do it," he said.
His positive mental attitude and self-motivation are key to his success, he said.
"I'm always competing against myself," he said. "When I wouldn't win a competition, I'd get an L – but it didn't stand for 'loss,' it stood for learning."
One of the things Brandon has learned is the importance of always trying, even if all you can do is a little.
"A little something every day counts," he said. "If you're not doing anything you go backward or stagnate."
One of Brandon's favorite memories of high school happened on his final day at Streamwood. Brandon, then a senior, and his fellow track team members had qualified for the state meet, which was being held at downstate Eastern Illinois University. The meet's second and final day coincided with graduation day. Brandon and his teammates competed and then hustled back. Brandon arrived on a bus just in time to accept his diploma, but there was no time to grab his cap and gown, so he posed for his graduation pictures in his track warmup suit. Even to this day, he said the picture is always good for a family laugh, and a happy memory of his time as a Sabre.