Aviation is not just a flight of fancy for 2017 Streamwood High School graduate Tyler Dietrich.
Tyler, who is entering his sophomore year at the University of North Dakota, is enrolled in that school's commercial aviation program. He earned his private pilot license earlier this summer.
With that license in hand, Tyler will continue to study and log at least 1,000 hours of flight time, with an eye toward one day being a first officer, then captain, for a large commercial airline like American, Delta, or Alaska Airlines.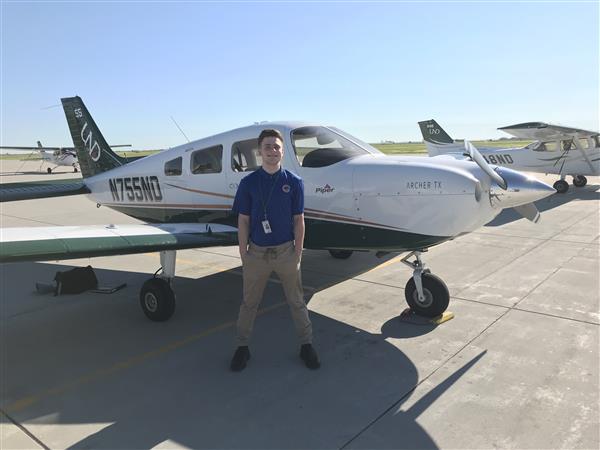 Tyler is thankful for the support of his parents.
"I wouldn't be here without them," he says. "They've helped with applications and financing. They think I can succeed, and I believe I can succeed.
He cites four others – three educators and a pilot – who had a big impact on his high-reaching dreams. SHS teacher Michael Barone, he says, "really thought out a path, he found me schools specializing in aviation and, along with my counselor, Ian Shaw, they gave me numerous options." In addition, teacher Calvin Cummins was an inspiration. "His son was a Marine pilot, and he told me stories in class that just fascinated me."
A chance meeting at Pilot Pete's, a restaurant at Schaumburg Regional Airport, also proved pivotal.
"There was this pilot … and he offered to take me up. I told him I was going to the University of North Dakota, and he said 'cool, good school.' He didn't have to take me up, but he just did, and it was awesome. It really motivated me and made me realize that I really liked it."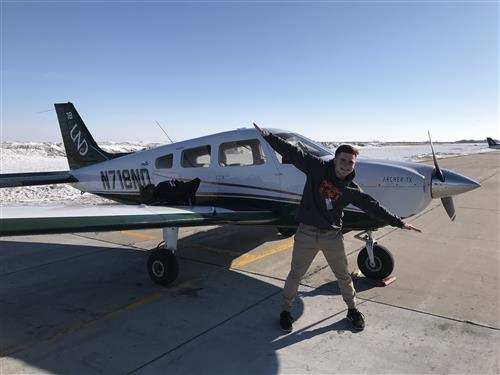 As he starts his sophomore year in North Dakota, Tyler is happy to be working hard for his achievements. And, as much as he misses his family, he's glad to be carving out his own niche in the world. In fact, there's only one drawback to his adventures in North Dakota -- the cold!He notes the wind chill on one January evening was 45 degrees below.
Despite the frigid weather, Tyler feels like he's landed in the right place.
"Over the next year, year and a half, I will be working on my commercial, instrument, and multi-engine ratings," Tyler explains. "My plan after that is to get my certified flight instructor license. I'm going to teach people how to fly and fly correctly. I build that up until I get 1,000 hours."
Tyler's course of study includes practicing landings, learning how to recover if a plane stalls at high elevations and just maneuvering around the sky.
The work, he stresses, is far more intense than it might sound.
"It's tough, but you're taught the right way in aviation," he says, "not the incorrect way or ways that could lead to accidents in the future."