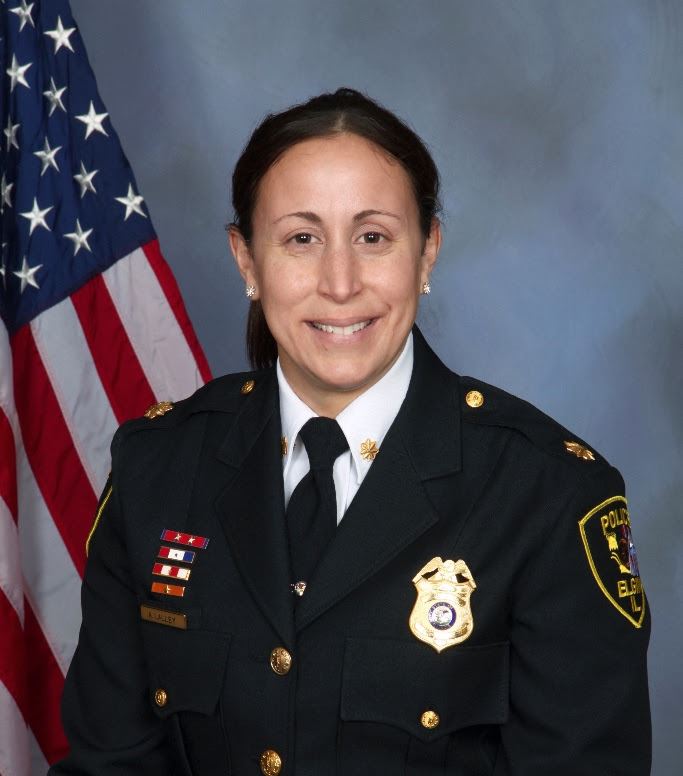 As a kid growing up in Streamwood, Ana Lalley would often travel the streets in and out of nearby Elgin, not suspecting that one day she would be the person ultimately responsible for keeping those streets safe.
In 2018, the City of Elgin named Lalley as the 35th chief of the Elgin Police Department, placing her in charge of 260 officers and support staff, and crowning a law enforcement career that has spanned more than 20 years.
A simple flyer Lalley saw as a senior at Illinois State University proved to be fateful, she recalled.
"I saw a flyer inviting people to test for the Elgin Police Department. It was the only department I tested for," Lalley said.
A law enforcement major, Lally scored well, and EPD offered her a position. In short order Lalley graduated college, graduated the police academy, and hit the streets as a patrol officer.
Before her law enforcement career began, Lalley attended U-46 schools, including Heritage Elementary and Tefft Middle School, both in Streamwood. She graduated from Streamwood High School in 1992.
She was a quiet, shy student.
"I considered myself a nerd, and I still am one," she laughed. "I love reading and science fiction, education and learning about new things."
She remembers her teachers at SHS were helpful, supportive, and invested in the education of their students.
"People encouraged us to pursue our goals," she said.
Back then, Lalley thought the goal was a legal career. Growing up, she liked the TV show, "LA Law," with its tales of high-powered attorneys. Lalley said she considered a legal career, but realized her interests in the criminal justice system lay in investigations, not courtroom trials.
"I knew by my junior year in college I wanted to be a police officer," she said.
After joining the EPD, Lalley worked as a patrol officer and went undercover as a narcotics officer. She worked her way up the ranks and was promoted to sergeant, then lieutenant, and in 2012, commander. Lalley was promoted to chief last year.
Along the way she completed a master's degree in criminal justice administration and is working on a second master's degree in homeland security issues.
As chief, Lalley said the department's officers must, of course, possess traditional tactical skills. But it's also important that officers embody professionalism and can interact with the community they are sworn to serve, she said.
"You can't fake genuine empathy or caring – people see through that," Lalley said.
For the past decade, Lalley has been an adjunct professor at Elgin Community College where she teaches a course for students interested in becoming police officers.
"The first thing I tell them is it's a profession, it's not a job," she said.