U-46 Team Member Kim Rudden
Kim Rudden, Associate principal of Streamwood High School
What are some of your daily work responsibilities?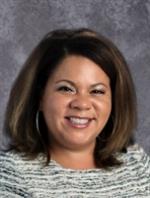 Some of my daily responsibilities involve working with the school counselors to provide our students with resources within their area of interest to ensure that students have as many choices possible for their post-secondary plans. As a counseling department we work with the families and students of Streamwood High School to support academic and social-emotional needs.
I work closely with the custodian on a daily basis to address the needs of the building.
I also oversee teaching and learning. I work with and support the academic assistant principals and our School Improvement team to support the implementation of the vision and mission of Streamwood High School which in part is for parents, staff and community members to be actively involved in students' experiences, so all graduates embody the ideals to Strive, Honor and Succeed.
Above all, on a daily basis I strive to build relationships within the Streamwood High School community.
How long have you worked for U-46?
20 years
What is it like to work for the District where you attended school and from which you graduated?
Being the associate principal at Streamwood, the school from where I graduated, has been a surreal and wonderful experience. This is my second year in the role and at Streamwood. I've always loved Streamwood High School. I am proud to be back to serve the community.
Strive Honor Succeed!
Which other U-46 schools did you attend?
I attended Heritage Elementary, Hanover Countryside, Canton Middle School, and Streamwood High School
What year did you graduate from high school?
1995
Were you a part of an academy or any specialized program?
I was not.
What was your favorite subject and why?
All things social science, more specifically U.S. History.
Who was your favorite teacher and why?
Mr. Sitz, my U.S. History teacher. I always enjoyed how he had the class view historical events from different perspectives. He would also share his own life experiences to connect with lessons.
Please share a favorite memory from your time as a student in U-46.
My favorite memories involve homecoming at SHS. It was such a fun time filled with school spirit.
Briefly describe your post-secondary college and/or career experience.
I was a first-generation college graduate and proudly attended Illinois State University. Go Redbirds! I then went on to get my Masters degree in leadership from Aurora University.
What important life or academic lesson did you learn in U-46?
Get involved, get connected, and stay engaged. I was always open to getting involved and balancing my social life with my academic needs while attending school. As a result I made several lifelong friends who are an important part of my life today.