U-46 Team Member John Heiderscheidt
JOHN HEIDERSCHEIDT, DIRECTOR OF SCHOOL SAFETY AND CULTURE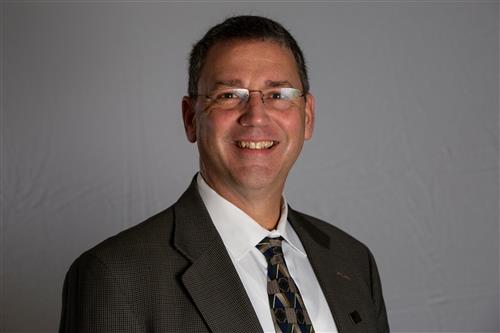 What are some of your daily work responsibilities?
School safety, emergency management, security, oversee school discipline, Crisis Prevention and Intervention Instructor with CPI, liaison for municipal police and fire departments, President of the Northern Illinois School Safety Administrators Association
How long have you worked for U-46?
Fourteen years.
What is it like to work for the District where you attended school and from which you graduated and what does it mean to you?
It is very fulfilling to work in the community I grew up in, live in, and believe in.
Which U-46 schools did you attend?
I attended Hanover Countryside Elementary School. My principal asked me in fifth grade to join the school safety patrol. I think he was trying to keep me out of trouble. In sixth grade I was the captain of the school safety patrol. That was really a big deal. I met a Streamwood police officer at the school crossing. He would stop by every now and then. Vera Nyberg was my second grade teacher and she still subs for us today. She is someone I will never forget. Canton Middle School was seventh through ninth grade back then. Streamwood High School was just finished and we were the first class to complete all three years. I was a band kid playing percussion. Thank you Mr. Hoffman! Cross Country and track did so much for me. Thank you to my coach Rick Staback who I still know and admire today.
What year did you graduate from high school?
1983.
Were you a part of an academy or any specialized program?
Band, jazz band, marching band, full orchestra.
What was your favorite subject and why?
Band - music was my second language. Another favorite course was social studies.
Who was your favorite teacher and why?
Vera Nyberg - she was my second grade teacher and helped me at a time when I needed it most. She also stuck by my side for all the years after. I would visit her every summer and help her with her classroom.
Please share a favorite memory from your time as a student in U-46.
Marching band shows during football games are a favorite memory. Being a part of the community of high school football and all that went into the show was a great experience. We as students had some great times in the stands and marching on the field.
Please share a favorite memory of working in U-46.
Every moment that I work here is an opportunity to serve the community and make a difference in someone's life. School safety is community safety and community safety is school safety, they are intertwined in a way that requires focused effort, strong relationships between organizations, a deep understanding of the precursors to bad situations and how to prevent and mitigate those situations. I am honored to be a small part of the human team that leads this work in our schools and in our communities and in our region.
Briefly describe your post-secondary college and/or career experience.
Around age 27 I started at Harper College and completed my Associate's in Arts. North Central College was my second adventure where I completed a Bachelor's Degree in Psychology. Graduate school was at Western Illinois University for Law Enforcement and Justice Administration M.A. Finally, I hold a certificate from the University of Southern California from the Delinquency Control Institute in Juvenile Delinquency.
What important life or academic lesson did you learn in U-46?
Band taught me how to be comfortable in front of people. Cross country taught me character. Principal John Schneck taught me to use my talents wisely and for the right things in life. What I learned from all of my teachers along the way were the different ways we can all get along, take care of each other, and challenge each other.
Do you have children attending U-46 schools? If so, which schools?
My wife and I live in Hanover Park. Our four children attended Horizon Elementary School, Tefft Middle School, and Bartlett High School.