U-46 Team Member Elizabeth Brunner
Elizabeth Brunner, English Language Arts Teacher at Canton Middle School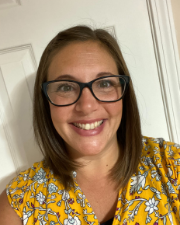 How long have you worked for U-46?
This is my 16th year teaching in U-46.
What is it like to work for the District where you attended school and from which you graduated and what does it mean to you?
Well, for me, I feel I have a unique situation because I am currently teaching at the actual middle school I attended, working under the lead of my seventh grade math teacher, Mr. Jeff Smith. It's fun working in a building I was familiar with and reminiscing about life there as a student.
Which U-46 schools did you attend?
Ridge Circle Elementary School, Canton Middle School, Streamwood High School.
What year did you graduate from high school?
2001.
What was your favorite subject and why?
This sounds crazy seeing as I teach English Language Arts, but I love math. I love solving problems and having an exact answer after following a plan.
Who was your favorite teacher and why?
Oh gosh, this is hard. I would have to say my fourth and sixth grade teacher, Mrs. Moeller. She had a way to make learning fun and engaging through her read alouds and interactive math lessons.
Please share a favorite memory from your time as a student in U-46.
I thoroughly enjoyed high school as a cheerleader. Some of my fondest memories include those either at the football field, in the gym, or competing. My favorite memory was senior year when the varsity cheer team went to state and won fourth place. We worked so hard and came together as a team to perform our hearts out. From the bus ride, to team dinner, to our performance, we earned that trophy!
Please share a favorite memory of working in U-46?
One of my favorite memories of working in U-46 is during my first year at Canton in 2013. We hosted a staff vs. students basketball game and some of the teachers put on a halftime performance. We did a little dance routine using pom poms and all. It brought back memories of performing as a cheerleader and the kids loved it!
Briefly describe your post-secondary college and/or career experience.
After graduating from SHS in 2001, I went on to Illinois State University where I would spend the next four years earning my Bachelor of Science degree in elementary education. Upon graduation in 2005, I was hired by U-46 for my very first teaching job at Hillcrest Elementary School where I would spend the next eight years teaching the sixth grade. During that time, I received my Masters Degree from Concordia University in 2008. In 2013, I chose to try something new, and was hired at Canton as an eighth grade English Language Arts teacher. In 2014 I started my English Second Language endorsement and received that from Olivet Nazarene University in 2015. I have been teaching at Canton now for my eighth school year and it is a true family. When I walked in the doors of Canton in 2013 I felt like I was at home and I was meant to be there all along! I'm grateful for the opportunity to work in a district that I grew up in, and teach with the best staff ever!
What important life or academic lesson did you learn in U-46?
I would say an important life lesson I learned is to work toward your goals, don't just say you have goals. In order to achieve something you have to actually work toward it. I always tell my students "a goal without a plan is just a wish!"