2020 Virtual Retirement Celebration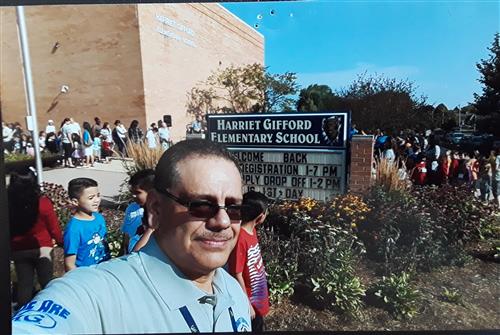 Name: Jesus S. Gonzalez
Position: 3rd Grade Dual Language Teacher at Harriet Gifford Elementary
Years worked in U-46: 19
What was a special memory at U-46?
The most memorable moment in my life as a teacher was being hired to come teach in School District U-46 directly from my country, Mexico, beside other bilingual teachers from Spain and Colombia, etc. My eternal gratitude for all those who contributed to that important event in my life and the life of my family.

What was your favorite part of your job?
I am proud to be a Bilingual Teacher in the Dual Language two-way program. I love collaborating with the school community providing orientation and instruction for ESL parents and those seeking their GED. I have special appreciation to all my principals and colleagues in the two schools I taught: Channing Elementary and Harriet Gifford Elementary.

What do you enjoy doing outside of your profession?
I have fun playing my guitar and singing, gathering with my family and friends. I also enjoy reading masterpieces of literature (Juan Rulfo is my favorite) and motivational books that have inspired me to achieve the goals in my life.