2020 Virtual Retirement Celebration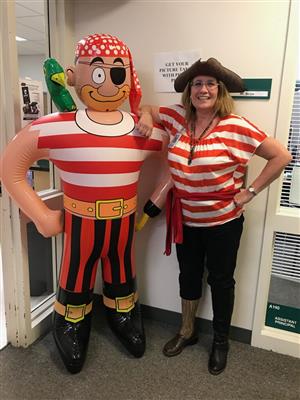 Name: Margaret "Peg" Miller
Position before retirement: For 20 years, I've been secretary to the Assistant Principal, Bartlett High School Deans' Office
Years worked in the District: Just shy of 25
What was one of your favorite memories at U-46? My favorite memory stretches out over my entire career ... the memories of all the fun and special occasions, laughter and tears I have shared with my family of co-workers/friends at Bartlett H.S. and Tefft M.S. and our amazing student pages!
What was the favorite part of your job? My favorite part of my job was just trying to help my administrators, co-workers, parents, and students ... whether asked, or just when I sensed they needed a hand. I also found joy in celebrating holidays and special, personal milestones with our office staff (birthdays, weddings, new babies, retirements, etc.), creating inspirational bulletin boards, and making the office more inviting with student artwork and seasonal decor.
What do you enjoy doing outside your profession? I enjoy capturing moments with photos, and spending as much time as I can with my husband, children, and especially our grandchildren AND with close friends! I love to vacation in the Caribbean, and in my retirement hope my husband and I will be able to visit other parts of the U.S. and the world we've only dreamed of so far.
Interesting Note: I earned a certificate of completion in an Adult Educational Program course offered by U-46 in 1995 for Office Technology which was the springboard that launched me into my career with U-46! I was the recipient of a scholarship from the Bartlett Woman's Club in 2004 as I was pursuing my degree at ECC. My biggest award was in 2007 when I graduated from ECC earning my Associate of Applied Science degree for Administrative Office Professional with high honors.