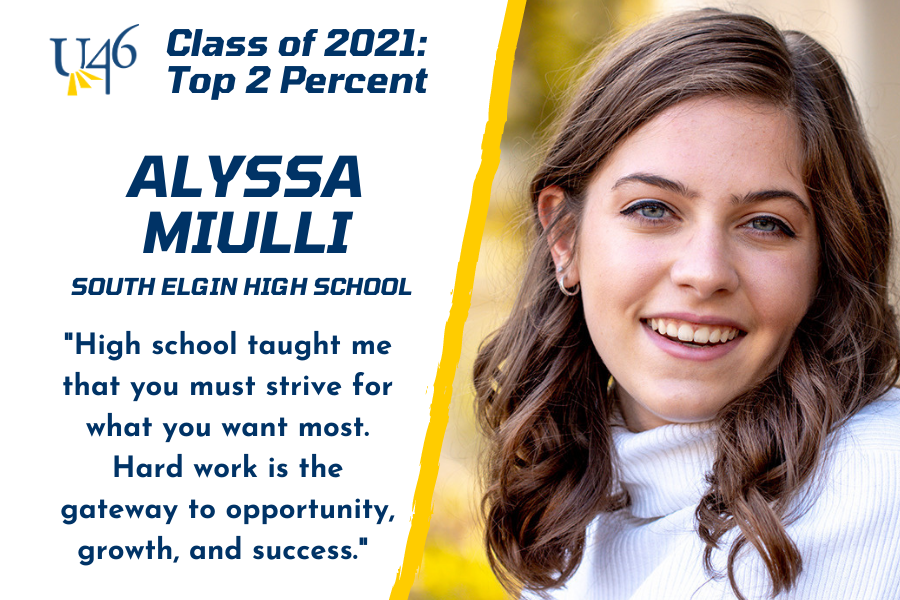 What are your post-high school plans?
I will be attending University of Notre Dame, and attending the College of Arts and Letters.
What is the most important thing you learned in high school?
High school taught me that you must strive for what you want most. Hard work is the gateway to opportunity, growth, and success.
What is your favorite high school memory?
My favorite memory is South Elgin High School's first S.P.E.A.K. event back in October of 2019. The positive atmosphere was a once-in-a-lifetime experience, and it is one thing I wish I could re-experience.
What was your favorite class or learning experience?
My all-time favorite class was AP Art History. I loved learning about the complexity of art with one of the best classmates and teacher I could ask for.
Share your best advice for incoming freshmen:
I know it sounds redundant, but get involved! High school is what you make of it, and the best way to enjoy it is in clubs, sports, theater productions, and other activities.
What or who do you acknowledge for your academic success, and ranking in the top 2 percent of your senior class?
I wish to acknowledge the amazing hosts of teachers who not only pushed me, but assisted me through my high school experience. It is truly amazing what the influence of one teacher can have on your future trajectory, and I am truly grateful for their kindness.
What life lessons or observations have you gained about yourself, and the world, during the 2020-21 school year?
The 2020-21 school year gave a harsh lesson in the usefulness of flexibility. We were constantly asked to adapt to new situations, and by being flexible, we were able to maintain academic success.