Larkin High School Recipients
Branstarr Sihanath, LHS Class of 2016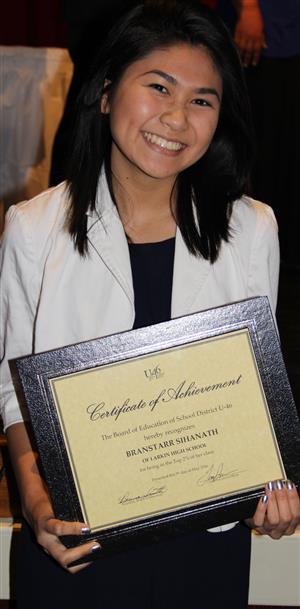 Branstarr Sihanath attended the Visual and Performing Arts Academy at Larkin High School. Soon after she was accepted, Branstarr discovered a hidden talent for painting and what could be a lifelong vocation and career.
The 2016 Larkin High graduate is studying art education at Illinois State University and plans to become a teacher after she earns her degree in 2020. While at college, Branstarr plans on pursuing academic coursework that would qualify her to teach art history and business management.
The 2016 Superintendent's Scholarship winner is using her grant to help her continue to paint a bright future.
Her own love of art was discovered and nurtured at Larkin by teachers who helped her hone her skills at painting and drawing.
"I didn't even know I had any painting talent until my teachers looked at what I did and said, that's pretty good," said Branstarr.
She's paid forward some of the guidance she's received by working as a mentor for the Girls in Motion leadership program at Washington Elementary School in Elgin. Branstarr has been an art camp counselor and worked in multicultural programs, teaching about her Laotian background and the cultural traditions of Laos. She is the daughter of Sisvanh and Oulingthong Sihanath of Elgin.