Free Meal Distribution

The Food & Nutrition Services department has distributed more than 3 million meals at school sites across our District since mid-March when the COVID-19 pandemic first closed school doors.

As of January 4, 2021, curbside meal distribution is underway again, with free breakfast and lunch meals available to all children 18 and under at more than 40 school sites from 7 a.m. to 11:30 a.m. Monday through Friday. (Friday meal distribution includes weekend meals.) No paperwork is required to pick up the meals. The children to not need to be present, and the meals can be picked up by a parent, friend, relative or neighbor.

Meanwhile, with the resumption of limited in-person instruction, all students in attendance at school for classes will be provided a free grab and go breakfast and lunch to take home and eat.

Students in attendance for all-day programs will be provided free breakfast and lunch at school. Students participating in all-day childcare programs will be provided free breakfast, lunch and supper.

Families with questions are encouraged to reach out to Food & Nutrition Services through Let's Talk or by calling 847-888-5000 ext. 5400.
NEW MEAL DISTRIBUTION SITES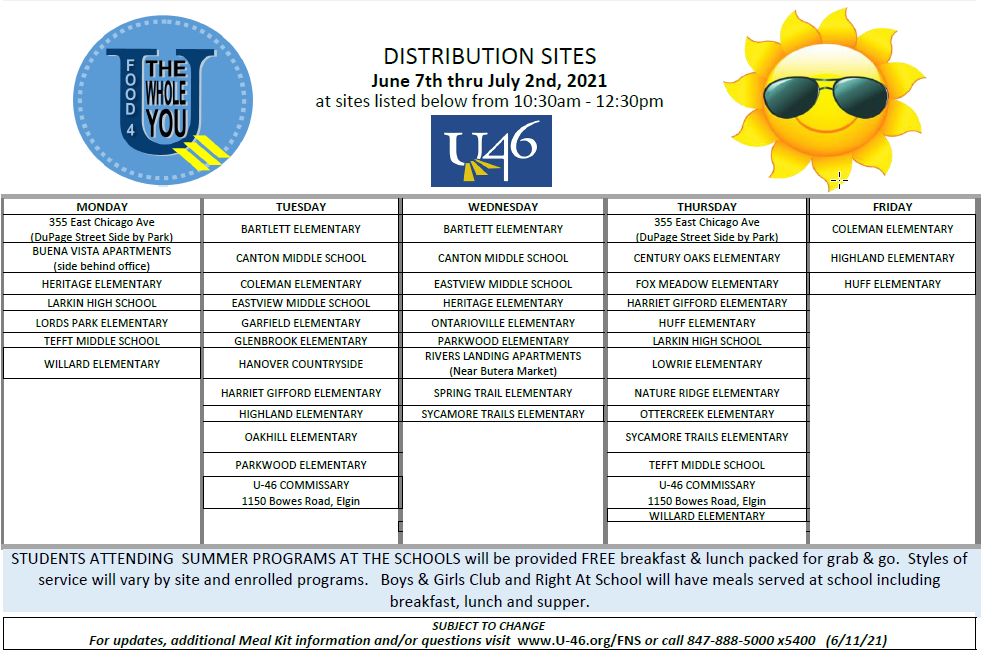 ELEMENTARY SCHOOLS

Bartlett Elementary

Century Oaks

Channing

Clinton

Coleman

Creekside

Fox Meadow

Garfield

Glenbrook

Hanover Countryside

Harriet Gifford

Heritage

Highland

Hillcrest

Hilltop

Horizon

Huff
ELEMENTARY SCHOOLS

Laurel Hill

Lincoln

Lords Park

Lowrie

McKinley

Nature Ridge

Oakhill

Ontarioville

Otter Creek

Parkwood

Ridge Circle

Ronald O'Neal

Spring Trail

Sunnydale

Sycamore Trails

Timber Trails

Washington

Willard
MIDDLE SCHOOLS

Abbott

Canton

Ellis

Kimball

Larsen

Tefft
HIGH SCHOOLS

Dream Academy

Elgin

Larkin

Streamwood
Last Modified on June 11, 2021