Elgin High School
Home of the Maroons!
---

Students & Staff Self Certification

As U-46 begins to offer opportunities for in-person instruction, students and staff must self certify each morning through this form that we do not have a fever or any of the symptoms associated with COVID-19. It's quick, just two questions!
---

This year, with the challenges of distance learning (and, of course, the physical, medical, social, mental health stress everyone has been under), district U-46 has established a new grading policy to address failures in full year classes. To prove you have mastered the content from the failed class and earn the first semester credit, you simply have to pass the second semester of the same class. Did you fail first semester of Algebra? Pass second semester, get first semester credit free! Did you fail first semester of Culinary Arts? Pass second semester, get first semester credit FREE! In some cases, you even get the same grade for both semesters, so you could get A's for both! Sometimes you just get a P for passed, but you still get the credit either way. You could earn up to 7 first semester credits! Act now!

---
Schedule Week of April 12th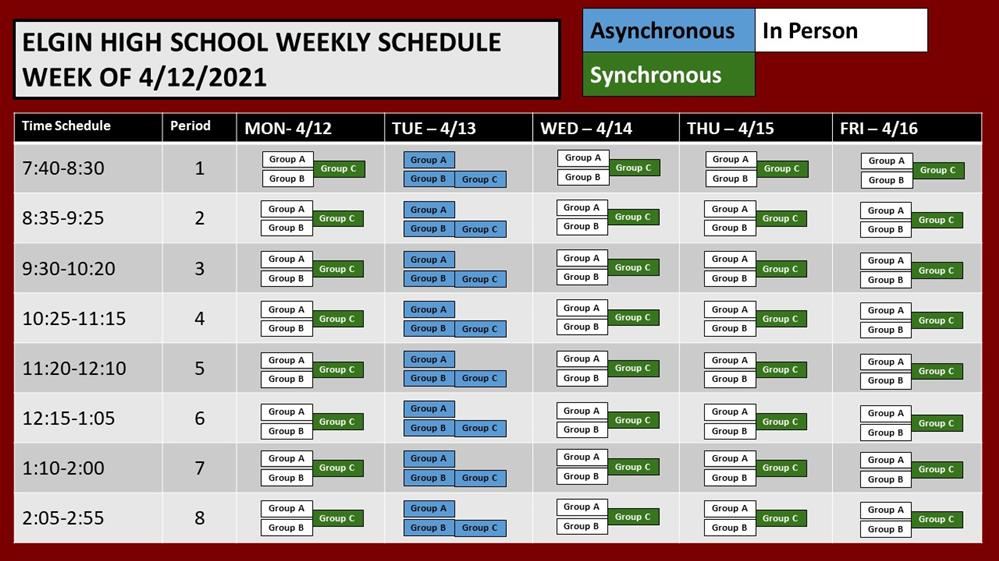 Schedule Week of April 19th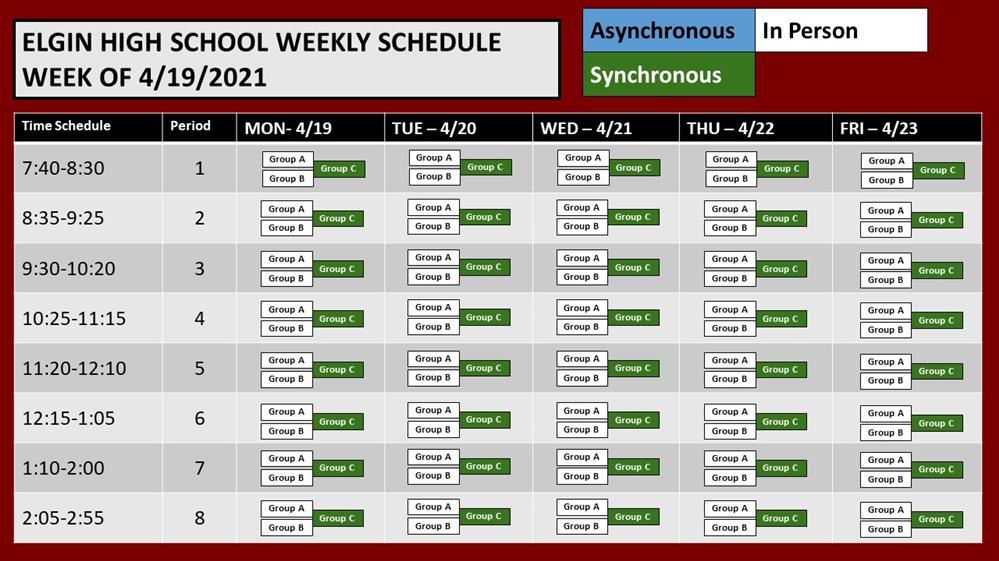 ---

U-46 Hybrid Transportation Update

Transportation is working diligently to complete the routes for the start of the new in-person learning beginning April 7th. Since the order of schools dismissing changed in the afternoons, we have to reroute all existing routes. This will mean new routes with new stop times for all bus riders. These stop times and routes will be available for viewing on the parent portal beginning Monday, March 29th.

In order to complete the routes and post them for union selection, we must once again implement a hold on any changes.

Any changes entered in IC after March 18th 5:00 PM, will not be processed for an April 7th start. All changes entered after March 18th 5:00 PM will be effective on Monday, April 19th.

No changes should be made from remote to in-person as stated by Superintendent Sanders at the Monday Board Meeting.

We strive to provide excellent service and want to provide transportation for any and all eligible students.

---
Rent/Mortgage/Utilities Assistance
Elgin High School's Maroon Buzz Weekly (Video News & Announcements)