Elgin High School
Home of the Maroons!
---

Students & Staff Self Certification

As U-46 begins to offer opportunities for in-person instruction, students and staff must self certify each morning through this form that we do not have a fever or any of the symptoms associated with COVID-19. It's quick, just two questions!

---
U-46 Summer Experience - Register Here Starting April 12th!

Summer School: Secondary Options

U-46 will host traditional summer school opportunities for students in middle and high school. Summer school will allow students to learn original credit for courses, recover credit lost due to failing grades, andm, at the high school level, and accelerate learning.

Students may register for courses by semester. Graduation exercises for summer graduates will take place at 3 p.m. Thursday, July 22, 2021 auditorium at Larkin High School.

Summer School Details

Registration Opens: March 22, 2021

Location: Larkin High School, 1475 Larkin Ave., Elgin

Start/end times: 8 a.m.- 12:30 p.m.

Semester 1: June 15 - July 1, 2021 (registration for semester 1 closes on June 7, 2021)

Semester 2: July 6 - July 22, 2021 (registration for semester 2 closes on June 17, 2021)

Fee: Summer school fees will be waived for 2021

Attendance: Students enrolled in summer school are expected to attend school on time every day. Students who are absent for 2 days for any reason will be dropped from the course and will not earn any credit.

Student Code of Conduct: All students who register for summer courses agree to follow the U-46 Student Code of Conduct. Discipline issues will not be tolerated and could result in a student being dropped from the program.

High School Summer School: Recovery and Acceleration

Students who earned a failing grade in one or more semesters of a course required for graduation must recover the credit in order to graduate on time (within 4 years of entering high school). Click HERE for High school courses offered for credit recovery during the summer.
---




"Come join the Club! We will be hosting evening activities every Tuesday, Wednesday, and Thursday from 6-8pm at the Elgin Clubhouse until the end of the school year. Limited transportation will be provided. Participate in a variety of activities including art, sports & recreation, STEM, cooking, social justice, college & career readiness, mentoring, and more. There will also be opportunities for at-home activity kits and field trips. Signing up is easy and FREE. Click on the link to have a parent or guardian fill out the membership form today! www.bgcelgin.org/teen"

---
Schedule Week of May 3rd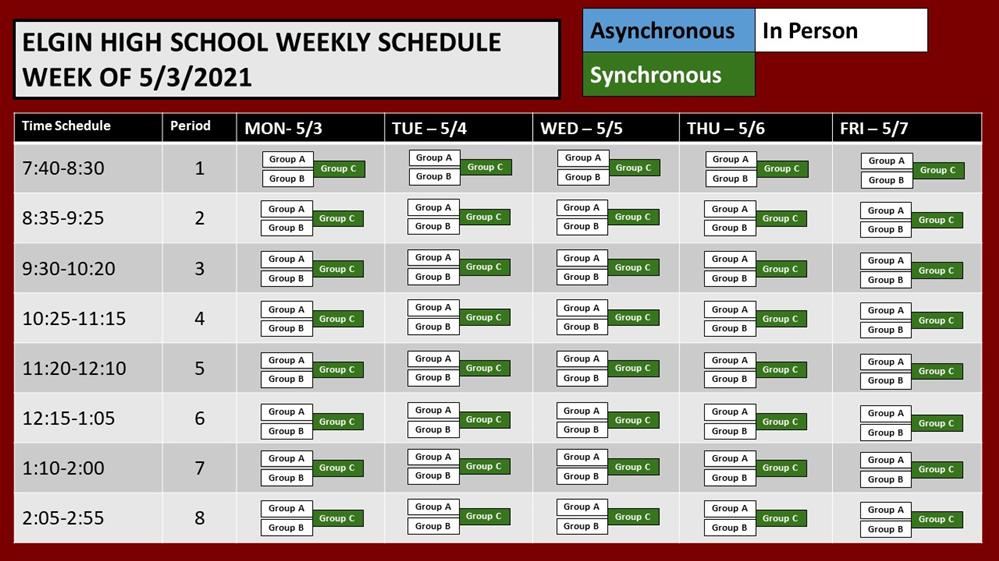 Fresh Start

When: M - TH 3pm-4:30pm

What: all subjects

Google form:

Please remember, we will keep Fresh Start as a fun, safe, comfortable place to get help, not as a punishment- but if a student needs to complete assignments or needs help, encourage them to attend.

We will also have a break-out room for students who have questions about our different platforms, classes, or anything counselor-related. Please have them fill out the google form prior to attending so we are better prepared for breakout rooms.

---
Elgin High School's Maroon Buzz Weekly (Video News & Announcements)
---

The EHS PTO is now part of the Amazon Smile program! Use this link to support the EHS PTO through your regular Amazon shopping.

---

EHS Class of 2021 $500 Scholarship

EHS Parent-Teacher Organization Educational Scholarship

Each year the Elgin High School Parent Teacher Organization awards four (4) scholarships of $500 each to EHS seniors who plan to pursue classes, certification, or a degree after graduation.

2021 EHS PTO Senior Scholarship


---

The E Booster Club Online Store is OPEN! You can now shop conveniently from your computer or mobile device for Elgin High School spirit wear and have your items delivered to your home. Click on the link HERE to access the store.

---

Click HERE to view Elgin High School's Freshman Connection Page.

---