Return to Headlines
Parkwood Elementary Principal Ana Lizza Arroyo Named Hanover Township `Principal of the Year'
May 24, 2019
Hanover Township named Parkwood Elementary School Principal Ana Lizza Arroyo its 2019 "Principal of the Year," as part of its annual Celebration of Leadership in which three School District U-46 students and Glenbrook Elementary teacher Ellen Smith were honored as well.
Principal Arroyo was recognized for building a positive and student-centered school climate in which peace circles are used to resolve conflicts in settings as varied as staff meetings and playground disagreements. She was also praised for having a compelling vision for what Parkwood students can accomplish — and engaging parents, the community, and other stakeholders in making that vision a reality.
"Mrs. Arroyo exemplifies the 'four Cs' - care for yourself, care for others, care for your school, and care for your community," said Steve Burger, the District's Assistant Superintendent for Elementary Schools Instruction and Equity, who was the principal at Liberty Elementary School in Bartlett when Arroyo served as its Administrative Intern. "Her practice has taken Parkwood to a whole other level. When you go and visit, you'll see the great things they do, day in and day out."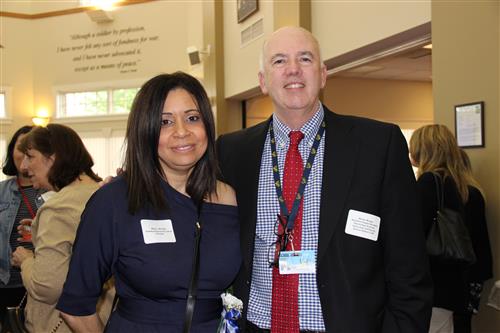 Parkwood Elementary, "Home of the Panthers," serves more than 360 students in kindergarten through 6th grade, with about 88 percent coming from low-income families and 67 percent designated as English learners.
Principal Arroyo began working in U-46 more than 10 years ago, also serving as teacher in the bilingual gifted program and an Assistant Principal Intern at Huff Elementary in addition to her role at Liberty. She has been the Principal of Parkwood since the 2013-14 school year. She also taught in Chicago Public Schools and a private school, and spent two years in District 158 in Algonquin as the English Language Learners director.
Principal Arroyo has her bachelor's degree in accounting from Interamerican University and two master's degrees from NIU, the first in Education with ESL and ELL endorsements, and the second in Educational Administration. She received certifications from NIU in Administration, ESL/Bilingual Education and Gifted Education.
The award, part of the Hanover Township Committee on Youth's annual Celebration of Leadership, is given to a principal from a township-area school, including primary, secondary, alternative education and private schools.
Also as part of the Celebration of Leadership, awards were given to an adult who works with children in a leadership capacity. That honor went to Ellen Smith, who teaches 4th grade IGNITE (Inquiry and Gifted Network for Ingenuity Talent and Exploration) at Glenbrook Elementary School in Streamwood. Teaching is a second career for Smith, whose first worked as a therapeutic recreation specialist and then substitute taught for years before deciding to pursue it full-time. This is her 12th year teaching full-time in U-46, and she's taught 4th grade IGNITE at Glenbrook for five years.
"Every day in Mrs. Smith's class is like being in the most elite school in the country," said her principal, Cheryl DeRoo. "Mrs. Smith dedicates her time to ensure that all students have unique and powerful learning experiences that are engaging and thought provoking. She works hard to ensure that they spend time on 21st-century learning skills such as online conversations with authors, field experts, and other classrooms from around the country and across the world (and) she often applies for grants to allow her students access to field trips, learning experiences and materials that they otherwise would not have access to."
DeRoo said that Smith "cares about all students, not just the ones in her classroom" and demonstrates that by serving on building and District-level committees, as well as coaching teams comprised of students from 4th through 8th grades that compete in the Future Problem Solving Program International.
In fact, about 10 current and former students of Smith's, along with their families, attended the Celebration of Leadership ceremony to thank her for their impact on their lives, with five of them giving brief speeches at the podium to praise their teacher. Smith has her master's degree in education from National Louis University, an ESL endorsement and has completed Gifted Certification classes.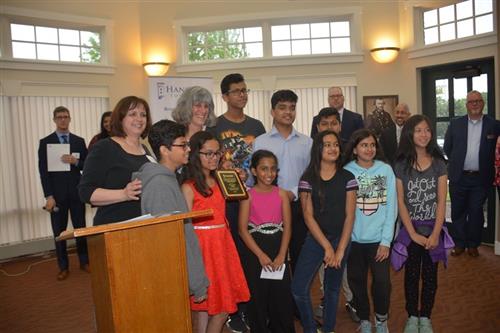 Awards are also given to youth in several age ranges. These three U-46 students were also honored:
Julia Pachuta, a 5th grader at Bartlett Elementary School in Bartlett, received the "Rising Star Award" for those in kindergarten through 6th grade. Julia was nominated by Principal John Signatur and teacher Danielle Przybylinski, who cited Julia's work as a Junior Coach in a program in which she mentors younger students, meeting with them every morning and afternoon, encouraging them to make good choices, reflect on how they can improve, and continue to strive for excellence. "Julia's kindness fosters a positive attitude and strong feelings of self-worth in the students she mentors. Her respectful encouragement helps make days brighter and celebrates the achievement of others," Signatur and Przybylinski wrote in their nomination form.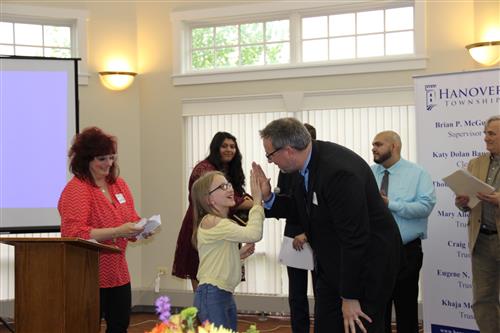 Maria Mendez, an 8th grade student at Tefft Middle School in Streamwood, received the "Junior Leader Award" for middle school students. Griselda Guzman, a school social worker who submitted the nomination, cited Maria's work as the leader of the Tefft Student Ambassadors, a group charged with showing new students around the building and making them feel at home. Guzman said even though Maria has a heavy courseload in the honors program, she makes new students a priority, and the fact that Maria is bilingual has also been important in welcoming Spanish-speaking students. "I have observed her personally befriending each new student and maintaining positive peer relationships with them. She inspires other students to be better members of the community by leading by example," Guzman wrote. "Maria has such a positive perspective on less than desirable situations, and is always picking up students when they are down. … For many of our students, Maria is their lifeline within our building."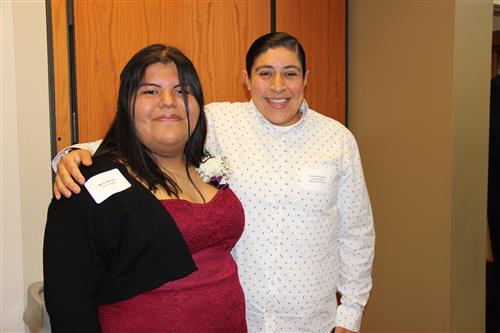 Anna Easter, a senior at Streamwood High School, received the "High School Leader Award" for her service with the Sabre Smash, a youth-led Streamwood High School freshman engagement event. She was nominated by Ryan Dickinson, a clinical interventionist at Hanover Township, who said Anna made a special connection with a freshman with developmental disabilities who was initially having trouble participating in the event. "She was able to lead under pressure and uncertainty without flinching or drawing attention to herself. Anna demonstrated the true spirit of 'inclusion' in a fast-paced, uncertain and high-energy environment … Anna leads with patience, a smile and an unwavering energy that inspires others around her to grow and have fun."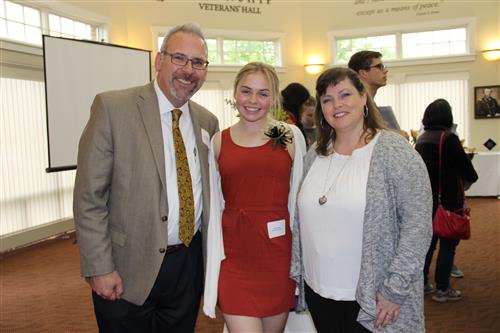 U-46 CEO Tony Sanders, U-46 staff, family, friends and Hanover Township officials gathered the evening of Tuesday, May 21 at the township's Senior Center in Bartlett to celebrate the achievements of the honorees. View photos from the event on the U-46 Facebook page in the Celebration of Leadership album.