Return to Headlines
Summer Program for Early Learners Features Activities, Books, Food
June 17, 2021
Learning happens everywhere, and this summer, young families in U-46 have a chance to enjoy "Learning on the Go."
The Elgin Partnership for Early Learning (EPEL) and the Alignment Collaborative for Education, along with an array of community partners, are meeting families where they are by bringing family engagement activities to local neighborhoods on Monday through Thursday mornings in June and July.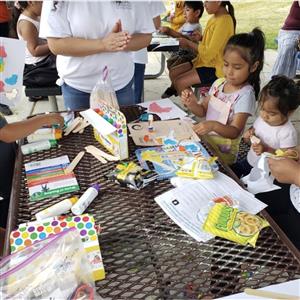 Each Learning on the Go session features a bilingual storytime, activities to support kindergarten readiness, opportunities to check out library books, and food provided by School District U-46 or the Northern Illinois Food Bank. Children are sent home with materials to encourage learning there as well.
In addition, community partners help sign up children for health care appointments, early education programs, and other important services. There are plans to offer COVID-19 vaccines to those 12 and above later this summer.
The summer of 2021 is the third year that EPEL and Alignment have offered Learning on the Go, designed to help reduce the opportunity and achievement gap.
"At each session, we aim to layer services and wrap the whole family in care," said Amber Peters, executive director of EPEL. "Learning on the Go offers the opportunity for families to meet other families, build relationships and trust with community partners, and get some tips on how to help prepare their young child for school."
EPEL is a collaborative non-profit organization dedicated to preparing the youngest learners in Elgin and surrounding neighborhoods for school and life. The Alignment Collaborative for Education, a non-profit local organization that brings together community resources and initiatives to support District priorities.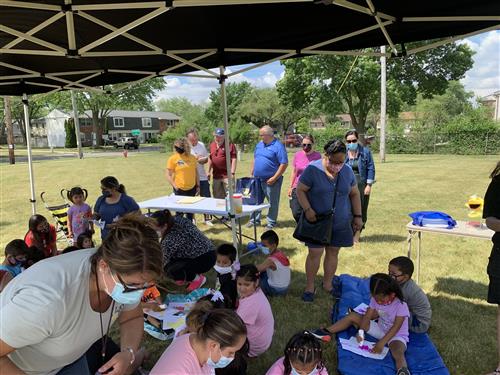 Other organizations helping make Learning on the Go a success include the Gail Borden Public Library, Poplar Creek Public Library, YWCA Elgin, Streamwood Park District, Streamwood Police Department, Give Me Five, and community partners that support children and families in areas of health care and social services.
Below is the Learning on the Go daily schedule. Sessions will run through the last week of July.
Note that sites marked with an asterisk also serve as a pickup site for the U-46 Summer Meal Boxes program. Between 10:30 a.m. and 12:30 p.m. on these specific days, families can pick up a free box of food with a week's worth of breakfast and lunch meals for the children in the household.
Mondays at 11:30 a.m.
Buena Vista Neighborhood*, 1285 Fleetwood Drive, Elgin. (Grassy area near the rental office and back playground.)
Mondays at 11:30 a.m.
Mulberry Apartments, 1631 Mulberry Court, Elgin. (At the playground by the covered shelter in Cornerstone Park.)
Tuesdays at 11 a.m.
Parkwood Elementary School*, 150 Laurel Ave, Hanover Park. (Look for the tent.)
Wednesdays at 11:30 a.m.
River's Landing Apartments*, 3 Times Square, Elgin. (At the picnic tables on the hill.)
Thursdays at 11:30 a.m.
Century Oaks Elementary School*, 1235 Braeburn Drive, Elgin. (On the playground.)