Return to Headlines
U-46 Recognizes Top Two Percent of Graduating Seniors; 'Accent on Achievement' Awarded to Staff Nominated for Kane County Educator of the Year
May 5, 2022
The School District U-46 Board of Education Monday will host the Top Two Percent ceremony at South Elgin High School to honor the academic success and accomplishments of graduating seniors. The students are the top-achieving graduates from the District's five comprehensive high schools and are featured on the U-46 website in the District's Class of 2022 section.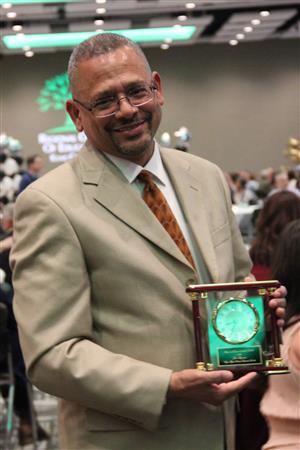 Also Monday, May 9, the Board of Education will recognize Elgin High School's Juan Figueroa, who received the Regional Superintendent Award during the Kane County Regional Office of Education's annual Kane County Educator of the Year awards banquet on April 29, as well as three other nominees from U-46.
Figueroa teaches college-level Dual Credit courses in Spanish in addition to Spanish Language Arts for EHS students in the Dual Language program.
"Mr. Figueroa's dedication to our students and school community is an example of excellence for our profession," said EHS Principal Jamie Crosen.
Teaching is Figueroa's second career; he had worked in the banking industry for more than 25 years when the Great Recession hit, and he decided to change careers to teaching, earning a master's degree in education and special education and a bilingual/ESL certificate. He has taught in U-46 since 2009, first at Channing Elementary, then at Ellis Middle School, and then at EHS starting in 2017.
Figueroa said he strives to create a classroom that is a safe learning space for students where they can develop a sense of community, express themselves, and learn to embrace the differences of others.
"I use teaching strategies that encourage students to contribute with what they bring and in the way they can. My role as the teacher is to assist each student in developing their own potential," he said. "I promote a curriculum that incorporates different learning styles, as well as make the content relevant to the students' lives."
The Kane County Regional Office of Education hosts the annual award ceremony to recognize and celebrate educators within the region. School districts, staff, and administrators nominate exceptional individuals who demonstrate a love for learning and a commitment to education. The April 29 event marked the 46th Kane County Educator of the Year banquet.
Three other educators for U-46 were nominated for an Educator of the Year award. Along with Figueroa, they will be recognized with an "Accent on Achievement" certificate during the 6 p.m. special Board meeting in the auditorium at South Elgin High School, 760 E. Main Street, South Elgin.
They are:
Faviola Ximena Escobar, a Dual Language teacher of Spanish Language Arts and Social Studies at Larsen Middle School in Elgin, who was nominated in the Middle School Teacher Category

Dr. Steve Tucker, Assistant Principal at South Elgin High School, who was nominated in the Administrator Category

Sandy Ritter, a special education teacher at Tefft Middle School in Streamwood, who was nominated in the Middle School Teacher Category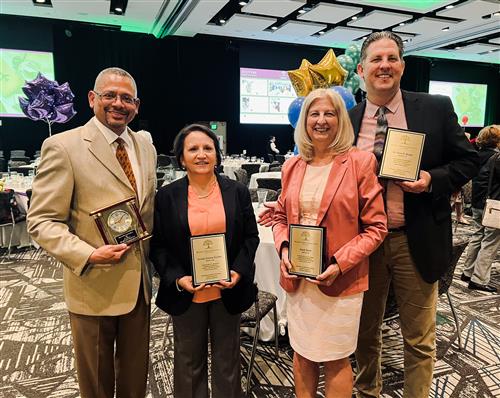 Following the awarding of an Accent on Achievement to the four teachers, the Board of Education will honor the students who have finished in the top two percent of their graduating class.
"Congratulations to our top two percent of the class of 2022," said Superintendent Dr. Tony Sanders. "We are proud of their dedication to academic achievement."
The top two percent of graduating seniors are as follows:
Bartlett High School
Agilan Gunashankar
Anthony Martin
Asmita Shah
Carter Eid
Desiree Oliveros
Evan Bulatek
Jillian Murdoch
Lorenzo Marasigan
Marcos Sanson
Ronit Nagarapu
Elgin High School
Yahya Arastu
Nicole Babiarz
Shweta Dhar
Sarah Erickson
Emily Flores
Sofia Heinrich
Abby Joyce
Maia Lesniak
Michelle Maslon
Vanessa Medrano
Angeline Nato
Jenny Nguyen
Alejandra Rodriguez-Garcia
Larkin High School
Jackson Baker
Ximena Bermudez
Alberto Bonilla
Emma Hahn
Lilah Hanson
Joana Hernandez
Sarah Leardi
Leah Mack
Ella Nail
Alejandro Ramirez
Luca Tendy
Jordan Vopat
South Elgin High School
Abigail Choi
Anna Creagan
Ashlin Lee
Caroline Croft
Ella Winterhalder
Emma Hunter
Gino Santini
Liliana Ernandez
Loreal Wilson
Michael Walczuk
Rachel McClow
Salvi Patel
Yuri You
Streamwood High School
HeeRan Yang
Jennifer Voravong
Joshua Manzano
Kaitlyn Esteban
Katelyn Nguyen
Kayla Ticherafi
Mishael Mazhar
Vanessa Pitsenbarger
Monday's Board of Education meeting will also be streamed live on the District's YouTube channel.