Return to Headlines
Board of Education Honors Music Education Program and Custodian
May 15, 2023
The School District U-46 Board of Education Monday night will honor the District's music education program and music educators after U-46 was recognized as one of the "Best Communities for Music Education" by a national foundation for the fifth year in a row.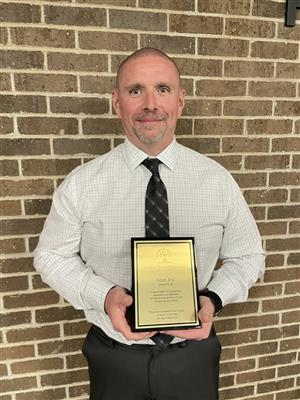 Also Monday, the Board will recognize Adam Bryl, the head custodian at South Elgin High School, who received the Educational Service Personnel award during the Kane County Regional Office of Education's annual Kane County Educator of the Year awards banquet on May 5.
Bryl was a sheet metal worker for more than a decade, but after the Great Recession hit the construction industry hard, he decided to find a job in which he could give back to his community. Bryl lives in South Elgin and his children attended U-46 schools, and he's now been the lead custodian at SEHS for 11 years.
"South Elgin High School is the stability that I was searching for but also made me feel like I was giving back to the place I cared about," he said. "I am invested in this building. This is, honestly, the best job I've ever had, even as a second career. … When you take pride in your work and have a great crew, work is joy."
The SEHS committee that nominated him for the award said Bryl sets high expectations for himself, his team, and their work, which they do with a sense of humor and a sense of urgency. The committee also noted how Bryl takes time to connect with students and ask them about their classes, hobbies, and activities.
"He is an adult in the building that students look up to and see as someone who cares about them collectively and as individuals," the committee wrote in their nomination letter.
The other recognition at Monday's BOE meeting will celebrate the fact that for the fifth straight year, School District U-46 has been honored with the Best Communities for Music Education designation from The NAMM Foundation. The NAMM Foundation is a nonprofit supported in part by the National Association of Music Merchants and its approximately 10,400 members around the world.
The Best Communities for Music Education designation, now in its 24th year, is awarded to districts that demonstrate outstanding achievement in efforts to provide music access and education to all students. To qualify for the Best Communities designation, the District answered detailed questions about funding, graduation requirements, music class participation, instruction time, facilities, and support for the music programs. Responses were verified with school officials and reviewed by The Music Research Institute at the University of Kansas.
U-46 was one of just 25 school districts in Illinois to receive the honor.
"Being recognized for five straight years is a testament to the value that our school district and greater communities place in music education as part of a well-rounded education for all children," said U-46 Fine Arts Coordinator Jaimie Giraldo. "We know that music gives our students an outlet for personal expression, and research shows it supports academic growth as well."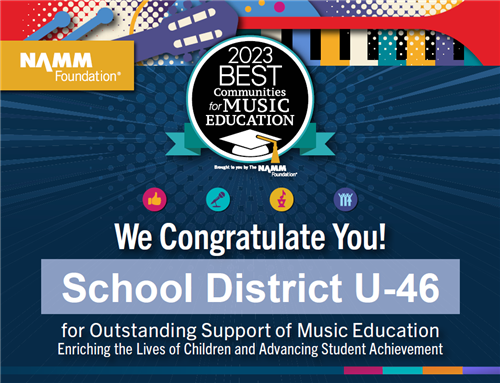 The Board of Education will present Bryl and Giraldo, representing the District's music educators, with "Accent on Achievement" certificates during its meeting at 7 p.m. May 15.