Return to Headlines
U-46 Foundation Board President Honored for Distinguished Service
June 4, 2020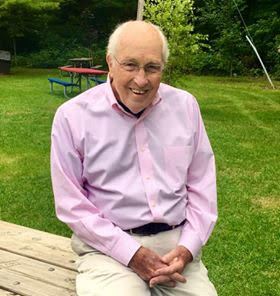 The Illinois Chapter of the National School Public Relations Association (INSPRA) recently selected U-46 Educational Foundation Board President, E.C. "Bud" Wilson, to be recognized in the 2020 Distinguished Service Awards Program. The statewide program honors those who have enhanced public education and conveyed its importance to the community on behalf of their schools and districts.
"There are few people who have made as large and sustained a contribution to U-46 as Bud Wilson," said Superintendent Tony Sanders. "His vision and tenacity promise to drive the U-46 Educational Foundation forward. Years from now students will benefit from Foundation funding and their lives will be enriched because of Bud Wilson."
Mr. Wilson can name the School District U-46 Superintendents, school board members, as well as all the most critical education issues of the day - for the past 56 years - because in one way or another, Mr. Wilson has been at the center, if not leading, the work to support public education in the state's second largest school district during those decades.
A quick list of Mr. Wilson's titles include: father of six School District U-46 graduates, 12-year-school board member, including a stint as president, and founding member of the Citizens' Advisory Council, a Districtwide parent organization that has successfully pushed for new education policies and initiatives.
Mr. Wilson's tenure on the school board was during the District's booming mid-1960s to mid-1970s when growth, capital campaign referendums, and subsequent new school construction filled his free time. By day he worked as an engineer and still leads his company, Clee Engineering.
In 2014, Mr. Wilson became a member of the U-46 Educational Foundation Board and the next year was elected president, a role he maintains today. Under his leadership, the Board has developed a new strategic plan and recently hired the Foundation's first full-time coordinator, Dawn Curran.
The U-46 Educational Foundation expands opportunities for U-46 students beyond what is possible with tax dollars. Established more than a decade ago, the Foundation has supported Districtwide events and programs, such as classroom sky shows at the U-46 Planetarium, heart rate monitors for physical education classes, and the annual TalentFest showcasing high school students. Most recently, the Foundation awarded eight "mini-grants" that allowed teachers to pursue innovative projects for their classrooms. The Foundation is a non-profit 501(c)(3) organization.
In addition to his contributions to U-46, Mr. Wilson and his late wife, Marilyn, also a busy civic volunteer, inspired two of their six children, all college graduates, to become teachers and school board members, including former U-46 Board Member Amy Kerber.
Kerber said her father often told her and her siblings to live their values and that "you can't complain about a problem if you are not willing to roll up your sleeves and become part of the solution."
Mr. Wilson won an Award of Merit in the Community Member category. An INSPRA luncheon and ceremony to recognize the Distinguished Service Award winners was canceled due to the COVID-19 pandemic but may be rescheduled in the fall.