Return to Headlines
Documentary Screening to be held on 4/9 at Tefft Middle School
April 8, 2019
After winter weather interfered with the original plans, School District U-46 will host a free and rescheduled screening on April 9 for "Kindergarten: Where Play and Learning Can Meet," a new documentary that was filmed partially at the District's Lincoln Elementary School in Hoffman Estates.
The 30-minute documentary explores the advantages associated with a play-based approach in kindergarten. U-46 leaders implemented this hands-on inquiry-based program in 2016 as the District launched full-day kindergarten for more than 2,500 students across its 40 elementary schools and two early childhood centers.
The documentary was produced by the Midwest Early Childhood Education Research Alliance at Regional Educational Laboratory (REL) Midwest in collaboration with WTTW Channel 11. In addition to U-46, it features footage from Romeoville-based Valley View School District 365U as well as scientific findings about the cognitive and social-emotional benefits of play from academic researchers.
The documentary crew spent a day in October at Lincoln Elementary School. They interviewed kindergarten teacher Kristin Bayer, Early Learners Initiatives Director Peggy Ondera, and kindergarten Teacher Leader Colleen Pecucci, and spent several hours in Bayer's kindergarten classroom, filming her interactions with her students and even interviewing a few excited kindergartners.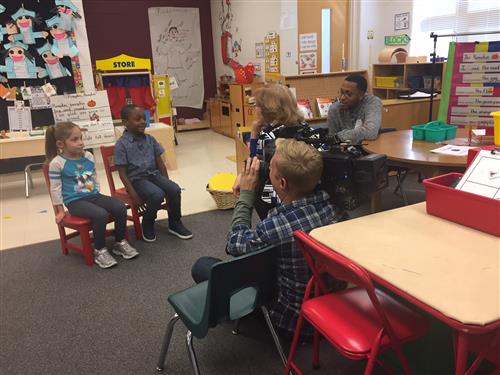 Ondera said District administrators were pleased when REL Midwest producers approached them about the project. Since 2016, Ondera and other District leaders have been invited to share the details about the U-46 kindergarten program at state and national conferences. The documentary was one more way to spread the word about the important topic.
"As a District, we are very proud of our play-based approach to kindergarten because we know that young children learn best through an active exploration of their environment," Ondera said. "Our kindergarten students are allowed the time to be young children and to develop their knowledge and physical, academic, and social skills through play and appropriate activities."
Members of the U-46 community are invited to a free screening of the completed documentary Tuesday, April 9 from 7 p.m. to 8:30 p.m. in the auditorium at Tefft Middle School.
Tefft Middle School is located at 1100 Shirley Avenue at the corner of Irving Park (Route 19) and Shirley Avenue in Streamwood. Attendees should park in the lot south of the school building (parking lot entrance is off Shirley Avenue) and enter through the main entrance for easy access to the auditorium.
After the screening, there will be a panel discussion with documentary participants, including Ondera, Bayer, and Pecucci. Light refreshments will also be served.
Note: Those wishing to attend the free screening are asked to RSVP with the REL Midwest producers through the following link: https://wttwrelmidwestu46april9.eventbrite.com