Return to Headlines
U-46 Honors Districtwide Volunteers; Awards Volunteer of the Year and Helping Hands Awards
April 25, 2019
School District U-46 hosted its annual Volunteer Reception Thursday to acknowledge and celebrate the many people who generously donate their time and talents at the school and District level. During the event, U-46 CEO Tony Sanders named Bartlett High School students Rohan Shah, Rushi Patel, Harsh Chheda, Aayush Patel and Sareena Shah, founding members of the Mentors of Tomorrow group as the 2019 Volunteers of the Year. While these five students attend Bartlett High School, the impact of their work is being felt beyond their own school.
"Rohan, Rushi, Harsh, Aayush and Sareena have not only started a program that impacts students in several schools but they have created a blueprint for their peers to extend this initiative throughout the District," said Sanders. "We know that students can play a major role in inspiring their peers toward academic success."
Started three years ago, the Mentors of Tomorrow provide assistance on homework and organize fun, learning-promoting activities at Spring Trail Elementary School, Sycamore Trails Elementary School and Eastview Middle School. The group has expanded its reach from two to three schools this year and has recruited approximately 30 new mentors in that time. It is estimated that the group has served 80 to 100 students overall.
The District also presented its third annual Helping Hands Award to recognize volunteerism at individual school levels. Thirteen individuals and groups were nominated for the 2019 Helping Hands Award. The award was presented to Harriet Kunesh, Carmein Blasucci and Janet Knupp, who volunteer at Ontarioville Elementary School.
Kunesh, Blasucci and Knupp, member of Poplar Creek Church in Bartlett, have worked tirelessly on Thanksgiving food drives for at-risk families, organized a Christmas Mart to support in-need school families, donated playground equipment and presented gift cards to dedicated teachers. They have participated in Ontarioville Elementary's annual supplies drop-off event, helped distribute food and snacks to student, and gathered and distributed homegrown vegetables to Ontarioville families. In addition, Knupp has mentored a group of boys in a one-on-one setting, while Blasucci and Kunesh have worked together mentoring a group of sixth-grade girls through a local Girl Scout troop.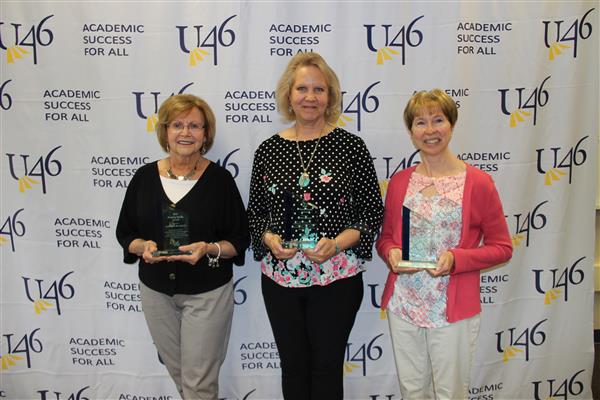 During the ceremony, CEO Sanders also acknowledged volunteers from across the District. Members of the Citizens' Advisory Council, the U-46 Educational Foundation Board, the African American and Bilingual Parent Advisory Councils, and the School Safety Advisory Task Force were several of the volunteer groups that attended the event. Their members consistently support student learning, academic success, and family engagement in the state's second-largest school district.