Return to Headlines
Elgin High School Presents its Annual National Biodiversity Teach-In
Feb. 2, 2023

A new group of Elgin High School students are continuing an initiative launched 10 years ago designed to raise awareness about the importance of biodiversity. Featuring webinars led by renowned scientists, the National Biodiversity Teach-In will focus on issues near (plastic pollution in the Great Lakes) and far (contaminants in the Arctic) and aim to inspire its participants to take action in environmental protection.
The National Biodiversity Teach-In will feature more than 25 webinars, all free and open to the public, on Fridays in February. Other subjects to be addressed during this year's Teach-In include Arctic plants, reefs in the Great Lakes, and native plants, as well as presentations that center on polar bears, wolves, elephants, snow leopards, amphibians, sharks, whales, and bats.
As in previous years, the 2023 Teach-In is expected to draw environmental science enthusiasts, as well as whole classrooms of students, from around the globe. Over the years, it has registered more than 110,000 participants from more than 27 countries.
Environmental students at EHS, guided by several teachers, have been working on the 2023 Teach-In for several months. Student organizers delegate the event responsibilities by committees. They troubleshoot technology issues, register participants, respond to media requests, advertise, and create promotional materials.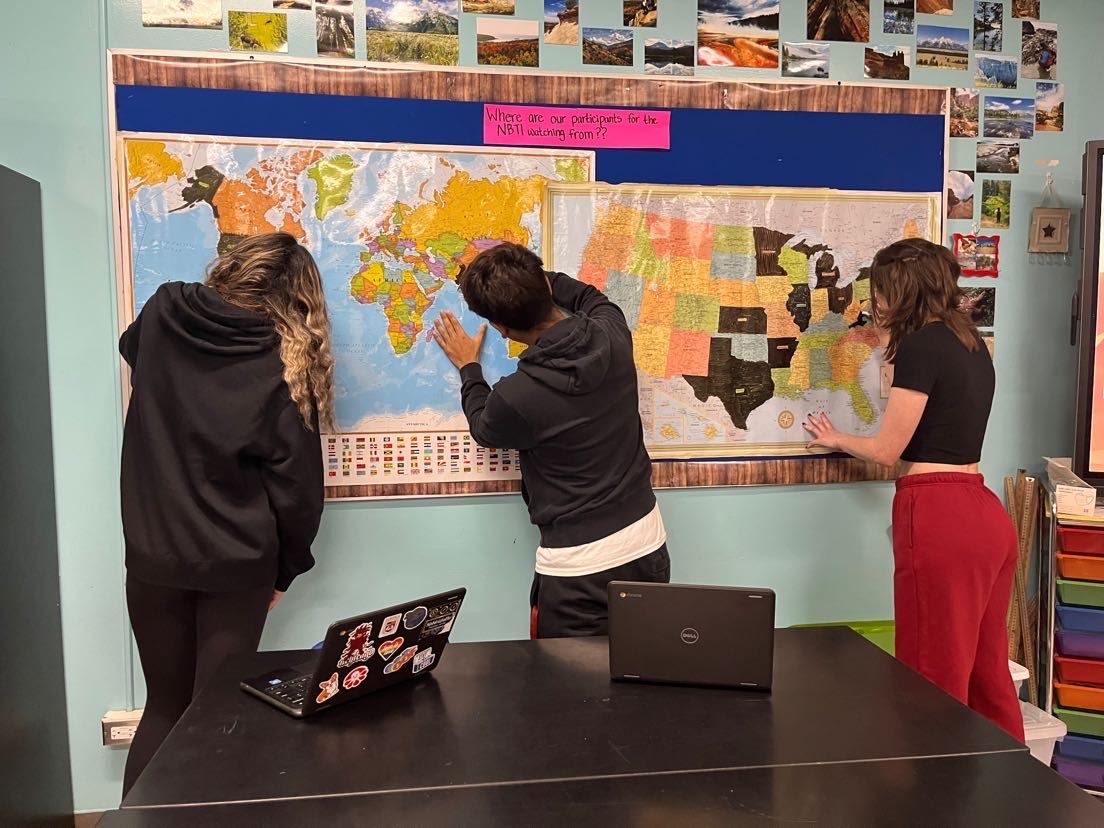 Sabrina Gomez, a senior at EHS, is a member of the Teach-In's "action team," responsible for identifying opportunities for webinar viewers to learn more or get more involved.
"I hope, more than anything, that the Teach-In accomplishes awareness about our world. The majority of the Earth's most vital issues go unnoticed," Sabrina said. "I hope the viewers of the webinars walk away with a sense of purpose; a purpose to spread the message of the Teach-In and do their part to take care of our singular, vital Earth and its inhabitants — human and nonhuman."
The webinars are scheduled during the school day on Feb. 3, Feb. 10, Feb. 17, and Feb. 24. Each speaker will give a presentation based on their specialty and also include dedicated time for questions and answers.
As was the case the last few years, the Teach-In will feature a day of sessions with nearly all female presenters for the International Day of Women and Girls in Science, a declaration from the United Nations General Assembly to encourage a new generation of female scientists to tackle the major challenges of our time by leading innovation in science and technology.
Among the women presenting Friday, Feb. 10, are Jillian Morris, a marine biologist and a shark conservationist; Dr. Bonnie Hamilton, a ecotoxicologist who studies contaminants in the Arctic; Dr. Thea Bechshoft, a marine mammal biologist who studies polar bear ecology; and Deanna Leonard, a marine biologist who focuses on whales as ecosystem engineers.
Student organizers of the Teach-In made an effort this year to add programming on topics that have mass appeal. For instance, Rebecca Shaw, who is chief scientist and senior vice president at the World Wildlife Fund, will present on the status of the world's biodiversity to close out the program at 2 p.m. Central on Feb. 24.
"We have a very exciting roster of presenters with a wide variety of expertise, including people who study ecosystems and how humans are impacting it all," said EHS science teacher Brigid Trimble, who helped launch the event back in 2013. "It is very encouraging to see and hear from these scientists and feel the enthusiasm they show for their field of study."
The webinars first began at EHS in 2013 to raise awareness about the importance of biodiversity. The 100-year anniversary of the extinction of the passenger pigeon in 2014 and the story of Martha, the last known living passenger pigeon, increased the students' interest and desire to discuss biodiversity with some of the best experts in the field.
The Teach-In website at www.nationalbiodiversityteachin.com has a full schedule and details on the speakers and topics being discussed. Those who register to attend a webinar will receive a personalized Zoom link.
Webinars will also be livestreamed on the Teach-In's YouTube channel the day of the event at youtube.com/@nationalbiodiversityteachin and its Facebook page at @natbioteachin.