Return to Headlines
Class of 2022 to Step Into Spotlight at Graduation Ceremonies
May 25, 2022
More than 2,900 students who saw the world upended by a global pandemic during their sophomore years will be honored for their strength, perseverance, and flexibility Saturday as School District U-46 conducts five high school graduation ceremonies at the NOW Arena in Hoffman Estates.
The U-46 Board of Education, Superintendent Dr. Tony Sanders, Assistant Superintendent of Schools Lela Majstorovic, and many other District administrators and principals will join families and friends in recognizing the Class of 2022.
"We have so much to celebrate with our graduating seniors," said Dr. Sanders. "Nearly 500 students are graduating from our Dual Language program, who have the linguistic skills to be successful in college, career, and life. Other students took advantage of an opportunity to earn a year's worth or more of college credits, or enrolled in the various educational pathways we offer that can lead to promising careers right out of high school. Wherever they go next, I'm proud of the Class of 2022 and know that they are going to make a difference in their communities and the world."
The graduation schedule for Saturday, May 28 is as follows:
8 a.m. Streamwood High School
11 a.m. South Elgin High School
2 p.m. Elgin High School
5 p.m. Bartlett High School
8 p.m. Larkin High School
As it has done since 2018, the District will be honoring seniors who enrolled in the full-time Dual Credit program on the campus of Elgin Community College. These students, who must demonstrate certain college readiness benchmark scores for acceptance, take all of their courses at ECC. They earn both high school and college credit for each class in the program.
However, for the first time, a group of these Dual Credit students — 32 in total — will be graduating with the equivalent of an associate's degree in addition to their high school diploma. Another 12 will be graduating from high school with at least a year's worth of college credits. For graduation, they will wear special stoles, and they were honored with a special recognition ceremony on May 25 at ECC.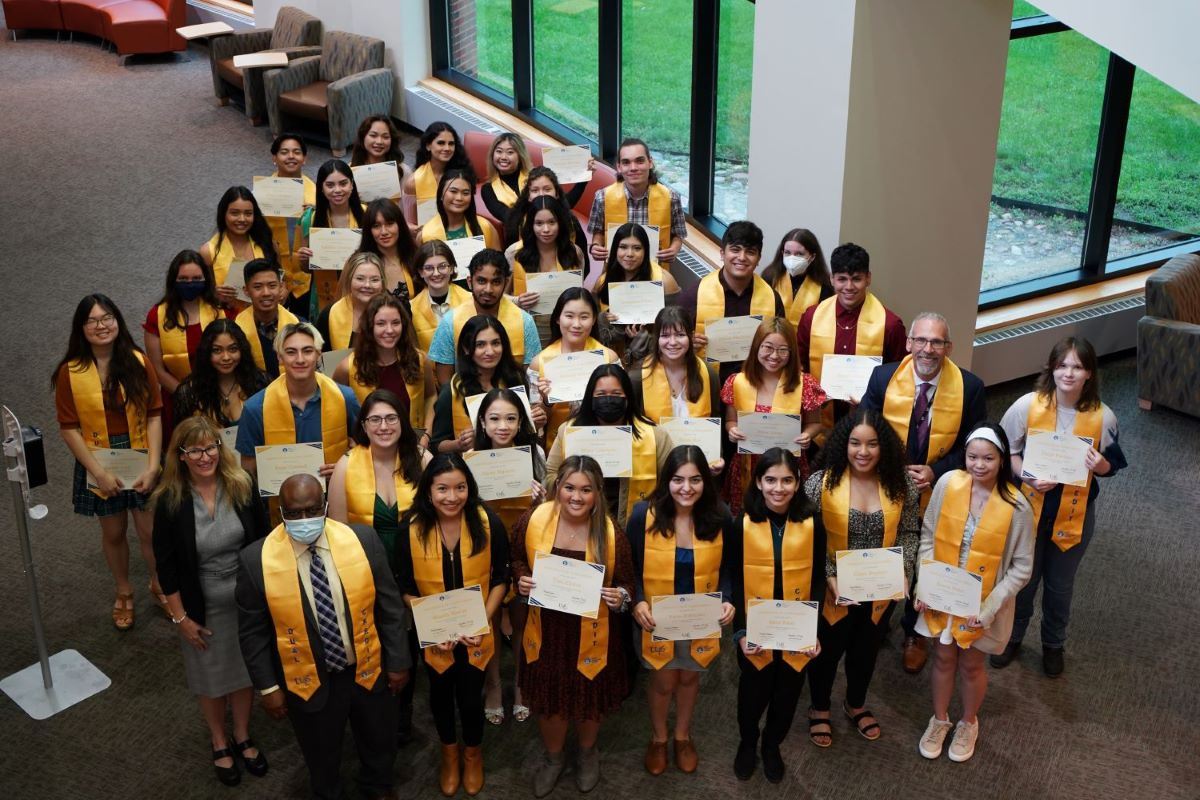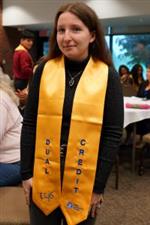 "It feels great to have a degree under my belt and to be so prepared for attending a four-year institution," said Hannah Mourousias, who will graduate from South Elgin High School with 67 credits from ECC and plans to major in journalism at Emerson College. "I definitely have more peace of mind knowing that I don't have to worry as much about college level expectations and coursework."
Another Dual Credit student, Elgin High School's Jenny Nguyen, plans to attend Northwestern University and major in biomedical engineering. Because of the pandemic, much of her early coursework was online, and she said she appreciated the flexibility but found it somewhat isolating.
"My most significant takeaway from being a Dual Credit student during the pandemic is that believing in yourself is everything. It may sound cliche but it's true," Jenny said. "We all do what we can, but more often than not, we find that what we actually do is much more than what we thought we could accomplish. I am graduating with 63 college credits, which feels surreal being a high school senior!"
Also wearing special stoles will be students who participated in the District's award-winning Dual Language program; about 345 of them have been a part of Dual Language since 2nd grade, when the current Dual Language program first became available to them.
Larkin High School's Vanessa Garnica is a native Spanish speaker who started in the Dual Language program at Creekside Elementary School.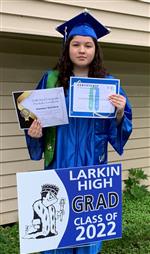 "The Dual Language program helped me learn more about my culture and language and it made me feel proud knowing that my first language is recognized in this country," Vanessa said. "Now I am biliterate and bilingual. The Dual Language program was a great opportunity."
Vanessa, who plans to attend Elgin Community College, said when the COVID-19 pandemic hit in her sophomore year, she could not have predicted the impact it would have on her life and those of her classmates.
"I have learned that even if the world is upside down, we must continue to give our best to move forward and never give up," she said.
For the sixth year, U-46 will also issue a special honor to 255 graduates who have earned the State of Illinois Seal of Biliteracy, showing that they've demonstrated proficiency in one or more languages in addition to English. In addition, 235 students earned the Commendation, given to students who have demonstrated significant progress toward achieving a high level of proficiency. Languages that students earned the Seal include Spanish, Russian, Polish, Korean, Japanese, German, and Gujarati; the Commendation included Chinese and French.
Students who earn the Seal can qualify for two years of foreign language credit at any Illinois public university; that translates to a combined total of $538,560 in tuition savings for the recipients of this year's Seal, using the credit hour cost at ECC for calculation purposes.
The Class of 2022 graduates includes 20 Superintendent's Scholarship recipients, a program that honors first-generation college students. They receive a $1,000 scholarship and are honored at a springtime reception hosted by the U-46 Educational Foundation. Those students are highlighted in this video: https://youtu.be/OcahM1x5wyE
Fifty-five graduates rank among the top two percent of their graduating class within the five high schools. These students will attend top universities including Northwestern University, University of Chicago, New York University, University of California-Berkeley, University of Pennsylvania, Notre Dame, and University of Illinois at Urbana-Champaign.
The top two percent graduates are being showcased daily through the month of May and June on the District's Facebook page and all profiles also appear in a section on the Class of 2022 website.
In order to continue to run five smooth and efficient high school graduation ceremonies, School District U-46 is requesting students and families ride together in the fewest possible number of vehicles to the NOW Arena, 5333 Prairie Stone Parkway in Hoffman Estates. Graduates, families, and guests are also asked to arrive 45 minutes prior to their graduating ceremony. More details about the graduation ceremonies can be found at u-46.org/classof2022.
Class of 2022 Graduation Facts
Total number of graduates: 2,919
Number of Bartlett High School graduates: 600
Number of Elgin High School graduates: 647
Number of Larkin High School graduates: 460
Number of South Elgin High School graduates: 735
Number of Streamwood High School graduates: 477
Total Graduates in the Full-Time Dual Credit Program: 44
Total Graduates in the Dual Language Program: 476
Graduates who earned Illinois State Seal of Biliteracy: 255
Languages: Spanish, Polish, Russian, Korean, Japanese, German, Gujarati
Total Commendation Toward Biliteracy: 235
Languages: Spanish, Polish, French, Japanese, German, Gujarati, Chinese
Total Top 2 Percent Graduates: 55