Return to Headlines
National Biodiversity Teach-In Launches for the Fourth Year
Jan. 31, 2019
Environmental science students from Elgin High School are once again preparing to virtually bring a variety of worldwide experts to the classroom as part of the fourth annual National Biodiversity Teach-In. The Teach-In is a series of 36 free webinars which will feature scientists discussing topics including snow leopards, butterflies, elephants, sharks, soil biodiversity, coral reefs, water conservation, and climate change. The event will also feature six award-winning children's authors who write about nature, science, and our planet.
"I am so proud of the amazing line-up the students and teachers of Elgin High School have put together," said Deb McMullen-Perryman, U-46 Coordinator of K-12 Science and Planetarium. "Students from across U-46 and beyond will have the opportunity to interact with scientists, authors, filmmakers, environmental educators, and heroes."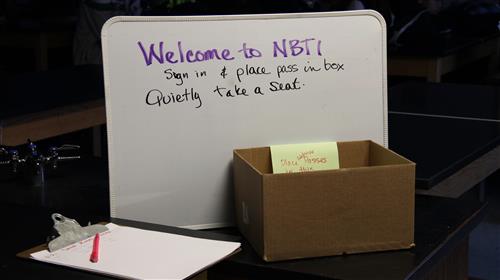 The webinars first began in 2016 to raise awareness about the importance of biodiversity. The 100-year anniversary of the extinction of the passenger pigeon and the story of Martha, the last known living passenger pigeon, increased the students' interest and desire to discuss biodiversity with some of the best experts in the field.
In 2017 and 2018, the event attracted a growing number of environmental science enthusiasts from around the globe. Since the start of the event in 2016, the Teach-In has registered nearly 100,000 participants from 36 states and 19 other nations.
The Elgin High students have scheduled three dozen experts for webinars taking place during the school day and into the late afternoon on Feb. 1, 8, 15, and 22. The speakers will lead a lecture on an environmental topic and leave time for discussion.
The webinars are free and open to the public. The events will be broadcast on the Teach-In website at: www.nationalbiodiversityteachin.com. Registration is required in advance on the website.
Friday, Feb. 1
| | | |
| --- | --- | --- |
| Time | Presenter | Topic |
| 8 a.m. | Koustubh Sharma | Working with the Mountain's Ambassador: The Snow Leopards |
| 9 a.m. | Jeffrey Glassberg | The Butterfly Effect |
| 10 a.m. | Lola Schaefer | Thee Surprise and Beauty of Nature, Children's Author |
| 11 a.m. | Dr. Deborah Giles | Southern Resident Killer Whale Research Topics and Techniques |
| 12 p.m. | Patricia Newman | Elephants! How Their Conversation Sparks Conversation |
| 1 p.m. | Joseph Milanovich | Amphibians & Global Change: What Do We Have to Lose? |
| 2 p.m. | Naomi Rose | Beneath the Surface: The Impact of Captivity on the Welfare of Orcas |
| 3 p.m. | Kevin Kurtz | Biodiversity in the Ocean: From Salt Marshes to Under the Seafloor |
| 4 p.m. | Tess Krasne | Ocean Conservancy |
Friday, Feb. 8
| | | |
| --- | --- | --- |
| Time | Presenter | Topic |
| 8 a.m. | CeCe Sieffert | Rhino Conservation in Africa & Asia |
| 9 a.m. | Dr. Katharine Hayhoe | Climate Change |
| 10 a.m. | David Shiffman | Shark Biology and Conservation |
| 11 p.m. | Dawn Bazely | Amazing Arctic Plants Above the Treeline |
| 12 p.m. | Leslie Bulion | Superlative Birds! Leaf Litter Critters! Science is Pure Poetry! |
| 1 p.m. | Sandra Postel | How We Can Fix Our Broken Water Cycle |
| 2 p.m. | Elizabeth Bach | Soil Biodiversity |
| 3 p.m. | Cory Suski | Developing New Barriers to Stop the Movement of Invasive Asian |
| 4 p.m. | Eva Hilldago | Sea Shepherd- Vaquita Campaign |
Friday, Feb. 15
| | | |
| --- | --- | --- |
| Time | Presenter | Topic |
| 8 a.m. | Jon Armbruster | Evolution of Fish |
| 9 a.m. | Jillian Morris | Shark Science & Media |
| 10 a.m. | Melissa Stewart | No Monkeys, No Chocolate Q & A with the Author |
| 11 a.m. | Dr. Kelly Jaakola | Studying Dolphins Up close and Why it Matters |
| 12 p.m. | Zack Rago | Coral |
| 1 p.m. | Dave Vaughan | Coral Restoration |
| 2 p.m. | Ann Froschauer | Batty for Bats |
| 3 p.m. | Jennifer Hopwood | Pollinator Conservation |
| 4 p.m. | Alyssa McCall | Polar Bears in a Warming World |
Friday, Feb. 22
| | | |
| --- | --- | --- |
| Time | Presenter | Topic |
| 8 a.m. | Joy Owens | The Elephant Sanctuary: Home, Herd, Rest and Refuge |
| 9 a.m. | Pam Otto & Lisa O'Brien | Our "Wild" Pets- Canines |
| 10 a.m. | Dr. Timothy Mousseau | Radiation, Mutations and the Chernobyl Zone |
| 11 a.m. | Nancy Castaldo | Back from the Brink: Saving Animals from Extinction |
| 12 p.m. | David Bain | Killer Whales: Why Endangered Killer Whales Need Help and What We Can Do. |
| 1 p.m. | Dorie Stolley | Egrets to Eagles: Introduction to Wild Bird Identification. |
| 2 p.m. | Donna Nuger | Animal Science |
| 3 p.m. | Tricia Bethke | Trees, Bees & Biodiversity |
| 4 p.m. | Jordan Gray | Transforming Passion for Turtles Into Effective Conservation Action |