Return to Headlines
U-46 Distributes Meals Around Community
Sept. 16, 2020
After distributing nearly 2 million free meals to children since the start of the COVID-19 pandemic, School District U-46 is expanding the program — adding three dozen community sites for meal pick up during the 2020-21 school year, starting (today) Wednesday.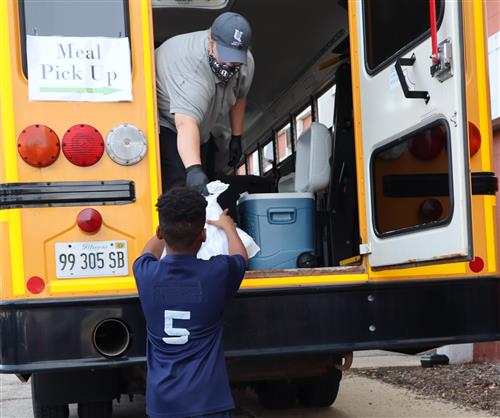 Members of the U-46 Transportation Department and Food & Nutrition Services team are collaborating on the "Meals on the Bus" project, using some of the District's mini-buses to bring the food to these community sites, which include parks, apartment complexes, public buildings, and parking lots. Families can pick whichever location works best for them each day — either one of the existing school sites, or one of the new community sites.
U-46's program provides a free breakfast and lunch, packaged to take home, to all children 18 and under during Distance Learning. No paperwork is required, and the children do not need to be present.
"We know that having nutritious meals fuel learning, and that includes remote learning," said Elena Hildreth, Director of Food & Nutrition Services. "Because of work obligations or transportation challenges, some families were struggling to get to school sites to pick up meals. Taking our meal program to more sites in the community is another way we can support U-46 families during this challenging time."
The Meals on the Bus program involves 15 bus routes, each making about three scheduled stops on weekdays. Buses will be at each site for at least 40 minutes and up to two hours. An updated schedule and list of locations can be found at u-46.org/food-distribution. Flyers will be posted and shared around the U-46 community, as well.
"Members of our Transportation team have already been helping with packaging and distribution of food, but we're excited to get even more involved with this important work and put some of our smaller buses back in service," said U-46 Director of Transportation Jeffrey Prowell.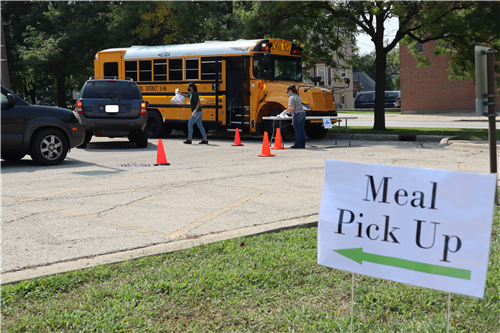 Between March 17 and Sept. 14, the U-46 Food & Nutrition Services department had distributed 1.92 million meals. The U.S. Department of Agriculture has granted schools free meal waiver flexibility through Dec. 31.
Meals are available Monday through Friday at the following community sites:
Bartlett/Carol Stream
| | | |
| --- | --- | --- |
| Ruzicka Memorial Park | Newport Boulevard, Bartlett, 60103 | 8:40 a.m. to 9:40 a.m. |
| Veterans Park | 200 E. Lies Road E., Carol Stream, 60188 | 8:45 a.m. to 9:45 a.m. |
| Spring Lake Mobile Home Estates | 100 1st Ave., Bartlett, 60103 | 9:10 a.m. to 11:10 a.m. |
| Trails End Park | Longford Road, Bartlett, 60103 | 9:45 a.m. to 10:45 a.m. |
| Bartlett Lake Apartments | 562 Deere Park Circle, Bartlett, 60103 | 10:30 a.m. to noon |
| Leiseberg Park | 285 E. Devon Ave., Bartlett, 60103 | 11:15 a.m. to 12:45 p.m. |
Elgin
| | | |
| --- | --- | --- |
| Sites | Address | Times |
| Squire Village Apartments | 1146 Yew Court, Elgin, 60120 | 9 a.m. to 11 a.m. |
| Eastside Neighborhood Gardens | Botsford Place, Elgin, 60120 | 9:20 a.m. to 10:50 a.m. |
| Marie Grolich Park | Souster Ave., Elgin, 60123 | 9:20 a.m. to 10:20 a.m. |
| Kennington Square Apartments | 905 Kenneth Circle, Elgin, 60120 | 9:20 a.m. to 10:20 a.m. |
| Cornerstone Park (street parking) | Mulberry Lane, Elgin, 60123 | 9:30 a.m. to 11 a.m. |
| Unity Park | 970 Illinois Ave. Elgin,, 60120 | 9:30 a.m. to 10:30 a.m. |
| Clifford Court Apartments | Clifford Court, Elgin, 60123 | 9:50 a.m. to 10:50 a.m. |
| The Mill | 1287 Fleetwood Drive, Elgin, 60123 | 9:50 a.m. to 10:50 a.m. |
| Blackhawk Apartments | 926 Congdon Ave, Elgin, 60120 | 10:25 a.m. to 11:25 a.m. |
| River's Landing Apartments | 3 Times Square Road, Elgin, 60120 | 10:30 a.m. to noon |
| Buena Vista Apartments | 222 Locust St., Elgin, 60123 | 11 a.m. to noon |
| Century Oaks Park (park on Sheffield) | 1300 N McLean Blvd., Elgin, 60123 | 11 a.m. to noon |
| Salvation Army Park | 316 Douglas Ave., Elgin, 60120 | 11 a.m. to 12:25 p.m. |
| Corley Drive Park (park on Corley) | 1316 Corley Drive, Elgin, 60120 | 11:05 a.m. to 12:35 p.m. |
| Illinois Park Early Learning Center | 1350 Wing St., Elgin, 60123 | 11:15 a.m. to 12:45 p.m. |
| Willow Creek Park | Lucile Ave., Elgin, 60120 | 10:30 a.m. a.m. to 11:30 a.m. |
| Willard Skate Park | 329 Willard Ave., Elgin, 60120 | 11:40 a.m. to 12:40 p.m. |
| SE Public Parking Lot | Raymond St. and National St., Elgin, 60120 | Noon to 1 p.m. |
| Greater Grace Church | 991 Deborah Ave., Elgin, IL 60123 | Noon to 1 p.m. |
| River West Commons Apartments | 719 Highland Ave., Elgin, 60123 | 12:05 p.m. to 1:05 p.m. |
Hanover Park/Hoffman Estates
| | | |
| --- | --- | --- |
| Sites | Address | Times |
| Glendale Terrace | 2335 Glendale Terrace, Hanover Park, 60133 | 8:50 a.m. to 10:20 a.m. |
| Hanover Park District | 1752 Maple Ave., Hanover Park, 60133 | 10:25 a.m. to Noon |
| Westline Apartment Complex | 1700 Ontarioville Road, Hanover Park, 60133 | 10:50 a.m to 12:50 p.m. |
| Canterbury Fields Park | 1950 Maureen Drive, Hoffman Estates, 60195 | 11:30 a.m. to 12:30 p.m. |
South Elgin
| | | |
| --- | --- | --- |
| Sites | Address | Times |
| Lions Club Park | 500 Fulton St., South Elgin, 60177 | 10 a.m. to 11 a.m. |
| Sperry Park | 800 Michigan Ave., South Elgin 60177 | 10 a.m. to 11 a.m. |
| Ann Street Park | Ann St., South Elgin, 60177 | 11 a.m. to 12:30 p.m. |
| Jim Hansen Park | 338 Valley Forge Ave., South Elgin, 60177 | 11:10 a.m. to 12:10 p.m. |
Streamwood
| | | |
| --- | --- | --- |
| Sites | Address | Times |
| The Oaks Apartments | 5021 S. Valley Lane, Streamwood, 60107 | 8:55 a.m. to 10:25 a.m. |
| Streamwood Park District | 550 S. Park Blvd., Streamwood, 60107 | 9:50 a.m. to 11:50 a.m. |
| Parkland Preparatory Academy | 900 S Park Blvd., Streamwood, 60107 | 11:50 a.m. to 12:50 p.m. |