Return to Headlines
School District U-46 Opens Preschool Doors at Nine Sites
Aug. 19, 2019
One week after classes resumed for kindergartners through 12th graders, School District U-46 opens preschool doors Wednesday, Aug. 21 at nine locations. The District's play-based preschool curriculum serves about 1,500 young learners each year.
In an effort to welcome students and their parents, preschool teachers have spent the past week visiting nearly every incoming preschooler at home. The District has made these visits a priority for more than 30 years.
"We recognize that parents know their children best so in order for us to be working in partnership with our parents, we need to be able to share information and build that trusting relationship," said Peggy Ondera, the District's Director of Early Learners Initiatives. "It's how we start to build that relationship between home and school.''
On a recent August afternoon, Independence Center for Early Learning teacher Jansseell Cuadrado and paraeducator Katie Cantu visited Miriam Miranda and her mother Maria Lopez in their bi-level home in Streamwood. Young Miriam clung closely to her mother during the conversation as the adults went over the daily routine and Ms. Lopez asked questions about uniforms (none) and snacks (they are provided) at the half-day program. New to the District, Ms. Lopez said no one visited her or her two older children in the past.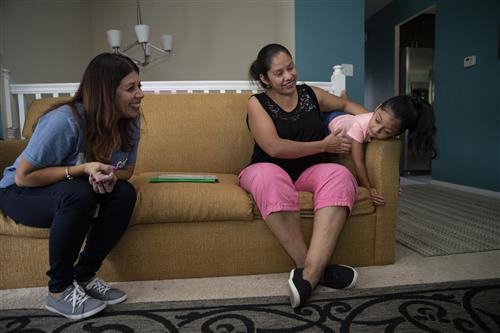 "I like it," said Ms. Lopez. "The other two (older children) cried on the first day of school. I think this visit will make her feel more comfortable, more at home."
Independence Center for Early Learning is located in Bartlett and is one of three freestanding District preschool centers serving children, ages 3 to 5. The District operates the other six centers within elementary buildings at Horizon, Huff, Liberty, Lincoln, Ontarioville, and Sycamore Trails.
In addition to these programs, the District's five high schools run preschool programs on a part-time basis that are designed to give high school students the opportunity to gain hands-on experience and explore early education as a career.
The District works in collaboration with community groups that in recent years have taken early childhood learning into the community. In partnership with the Alignment Collaborative for Education and the Elgin Partnership for Early Learning, there are now more learning resources in local laundromats, pediatrician offices, and even community and government buildings such as the Department of Motor Vehicles. Three Elgin laundromats are now participating in the popular "Literacy in the Laundromat" project that features books and signs suggesting easy educational activities for families to do with their children. A spring 2019 grant through First Book is allowing early childhood providers to distribute 20,000 books to children in the community. Learn more about our early childhood services on the District's Early Learners website page.
Families whose preschool students qualify for bus services can find their bus pick-up and drop-off times and locations posted on the Parent Portal under "Transportation."