Return to Headlines
Groups from Streamwood, Elgin High Schools Invited to Perform at Theater Fest
Dec. 30, 2021
Students from two U-46 high school theater programs were invited to perform at the 46th Annual Illinois High School Theatre Festival at Illinois State University in Normal. However, due to safety concerns with the COVID virus, the 2022 festival - which was set to run Jan. 6-8 - has been canceled.
The all-female cast of "Disenchanted!" from Streamwood High School, and the cast of "Defying Gravity" from Elgin High School were selected by festival representatives to perform in front of students, teachers, directors, and theater sponsors from across the state at the non-competitive festival.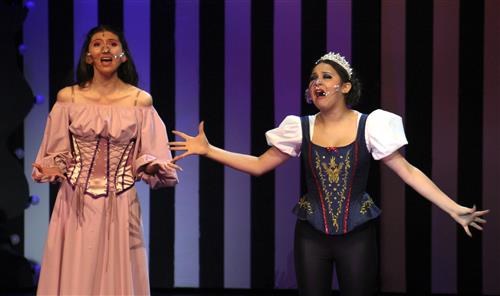 This is the second time that Streamwood High School has been selected to perform at the fest, said Hector Hernandez, director of the Sabre Ensemble Theatre at Streamwood High School. In 2017, Streamwood was the first U-46 school to take a full-length stage production to the festival, Hernandez said.
"It is an honor to be chosen. The girls starring in 'Disenchanted!' deserve it," Hernandez said in an interview before the festival's cancellation. "They have worked hard in this era of COVID with its challenges and uncertainties."
Seventeen girls star in the musical comedy, portraying classic fairytale characters including Cinderella, Snow White, and Sleeping Beauty while discussing mature topics like eating disorders, sexual orientation and body image.
"The show features empowered, funny women who all have a message," Hernandez said.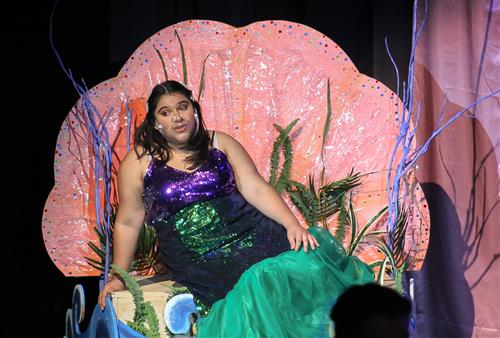 "Defying Gravity," Elgin High School's production, centers around the space shuttle Challenger tragedy of 1986.
Despite the subject matter, the play is not meant to be depressing, said Meagan Zahora, theater director and music/vocal teacher at Elgin High School.
"It is about humans' innate desire to ascend to the heavens through space travel, through religion or spiritually or artistically," Zahora said. "The message is beautiful. Christa (Christa McAuliffe, the New Hampshire teacher who died in the shuttle accident) went down in history doing exactly what she wanted to do. She ended up as a figurehead of her time, defying gravity."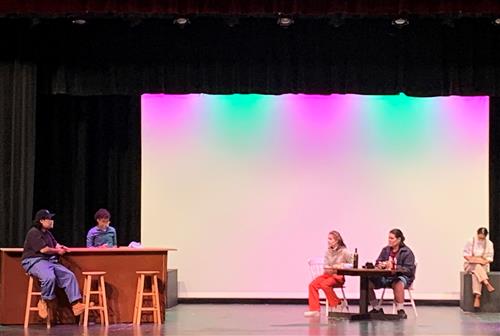 The story features a wide variety of characters who have to deal with the aftermath of the shuttle disaster in their own way: a relative of the McAuliffe character (who is simply referred to as "The Teacher" in the show); a shuttle ground crew technician who feels responsible for the accident; even artist "Claude Monet" takes to the stage as someone who comforts other characters, Zahora said.
Both productions were performed at the two high schools in November.