Return to Headlines
U-46 High Schoolers Serve Engineering Internships
July 2, 2019
Eight students from Bartlett High School's STEM Academy spent last week serving as interns with the engineering firm Hampton, Lenzini and Renwick, Inc., going out on job sites and learning about the different types of engineering paths they might want to pursue in college. The internship is one of two involving BHS students. Another group of students are sharing their talents and learning on the job at the Village of Bartlett this summer.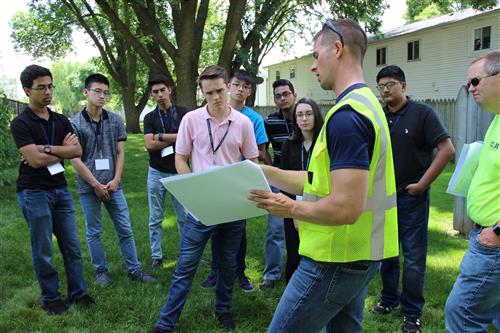 The STEM students spent one day visiting U-46 buildings where HLR is overseeing work, including a new track at Larkin High School in Elgin, and pavement improvements at Parkwood Elementary in Hanover Park and Prairieview Elementary in Bartlett.
As they watched construction equipment at work at Parkwood, HLR project engineer Randy Newkirk put in a plug for civil engineering, telling the students that colleges aren't graduating the number of civil engineers they used to, and that with most areas of the United States faced with aging infrastructure, it's a field with a lot of stability. On other days, they discussed environmental engineering, issues of traffic management, water distribution systems, wastewater conveyance, and more.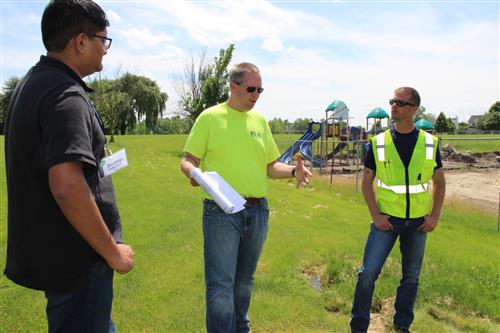 Sudip Patel, 16, who will start his senior year at BHS in August, said the internship was valuable because it helped him understand how much planning and design work goes into engineering. He had always envisioned engineers as professionals who work by themselves, and he was excited to learn how much teamwork and creativity is involved in the field.
"I like to have someone to bounce ideas off of," Sudip said. "You'd never have a boring day. There's always something innovative and changing."
Julia Savov, 16, who will also be a senior at BHS in August, is considering a career in aerospace or biomedical engineering, "but all this experience with other fields is making me more open to other types of engineering I could be interested in," she said.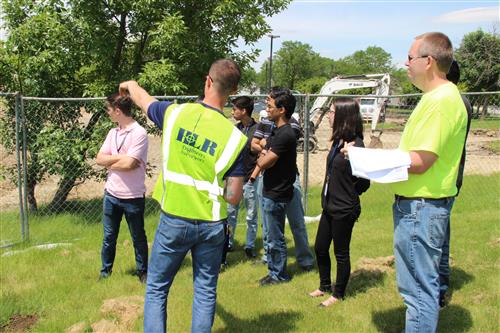 Julia also said getting to see the work being done on buildings in her own school district made it more "personal" and easy to understand why the smallest details matter.
The Alignment Collaborative for Education arranged the internships for the BHS STEM students in collaboration with U-46 leaders. The Alignment is a collective impact organization of business and community leaders working in partnership with U-46 to support District priorities. Alignment also supports the District's plan to bring college and career pathways to all U-46 high schoolers with a special committee, or "A-Team," focused on that work and the effort to produce a qualified future workforce eager to live and work within their communities.