Return to Headlines
Andrea Gaitan Bustos Named New Sunnydale Elementary Principal
July 1, 2020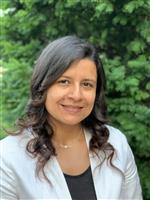 Dear Sunnydale Parents and Guardians,
It is my pleasure to announce that Andrea Gaitan Bustos, current assistant principal at Coleman Elementary, has been selected as the principal of Sunnydale Elementary School. With 12 years of experience in education as a teacher and administrator, Principal Gaitan Bustos brings a bilingual, bicultural, and student-centered focus to her role. She has a depth of professional experiences collaborating with students, families, school staff, and district leaders to support student success. Principal Gaitan Bustos is invested in engaging all families to feel welcomed and to be a part of school activities.
Principal Gaitan Bustos joined our school district in 2008, working as a 4th grade bilingual teacher at Laurel Hill Elementary and later Lincoln and Hilltop Elementary Schools. At all three schools, Principal Gaitan Bustos served on the School Improvement Planning teams. At Hilltop, she led the Dual Language team, co-hosted, and organized the Response to Intervention (RtI) Committee for two years, training and advising teachers on how to implement intervention measures for students. From 2014 to 2015, Principal Gaitan Bustos served as a Bilingual Instructional Coach, providing individualized and classroom-based training and support to Dual Language teachers in implementing research-based English Language Learners instructional strategies and methodology. From 2015 to 2017, Principal Gaitan Bustos returned to Hilltop to serve as a 4th grade Dual Language teacher and again served on the SIP team as well as the English Language Arts curriculum writing team and the district's Performance Evaluation Reform Act (PERA) Joint Committee.
In 2017, Principal Gaitan Bustos took on her current position as the assistant principal of Coleman Elementary in Elgin. There she has supported the principal in developing and shaping the School Improvement Plan, ensuring the vision and mission addresses the needs of students and the community. In her formal and informal observations of staff, she provides space for reflective conversations around standards-based learning and assessment, curriculum, and best teaching practices, looking at evidence collected and the Danielson Framework as a point of reference. She has also remained involved at the district level, serving as a member of the Teacher Appraisal Plan Oversight and Dual Language Advisory Council Committees. Principal Gaitan Bustos works closely with families and community organizations to bring systems of support to all students that she serves.
Principal Gaitan Bustos earned a Bachelor of Arts degree in language instruction at LaSalle University in Bogota, Colombia, a Master's degree in teaching at Aurora University, and another Master's degree in administration at Northern Illinois University. She also participated in the district's Aspiring Administration Program.
Principal Gaitan Bustos and I will plan for an opportunity in August to meet parents, guardians and members of the Sunnydale community. We look forward to working collaboratively to ensure that Sunnydale Elementary School is a place where ALL students are served well and where we support our students' dreams to come true.
I wish you and your families a safe and joyful summer and look forward to seeing you soon!
Ushma Shah
Assistant Superintendent of Elementary Schools
Office of Elementary Schools/School District U-46
---
Estimados padres y tutores legales de la Escuela Sunnydale,
Me complace anunciar que Andrea Gaitán Bustos, la subdirectora actual en la Escuela Elemental Coleman, ha sido seleccionada como la directora de la Escuela Elemental Sunnydale. Con más de 12 años de experiencia en educación como maestra y administradora, la directora Gaitán Bustos aporta a su nuevo cargo un enfoque bilingüe, bicultural y concentrado en los estudiantes. Tiene una gran experiencia profesional apoyando el éxito de los estudiantes en colaboración con los estudiantes, familias, personal de la escuela y líderes del distrito. A la directora Gaitán Bustos le interesa que todas las familias se sientan bienvenidas y sean parte de las actividades escolares.
La directora Gaitán Bustos se unió a nuestro distrito escolar en el 2008 como maestra bilingüe de 4o grado en la Escuela Elemental Laurel Hill y después en las Escuelas Lincoln y Hilltop. En las tres escuelas, la directora Gaitán Bustos perteneció al equipo del Plan de Mejora de la Escuela. En la escuela Hilltop, fue líder del equipo de Lenguaje Dual. Durante dos años colaboró y organizó el Comité Respuesta a la Intervención, entrenando y asesorando a los maestros sobre cómo aplicar medidas de intervención para los estudiantes. De 2014 a 2015, la directora Gaitán Bustos sirvió en el programa de Instrucción Bilingüe como entrenadora, proporcionando capacitación individualizada y apoyo a los maestros de Lenguaje Dual en la implementación de estrategias y metodología de enseñanza basadas en la investigación. De 2015 a 2017, la directora Gaitán Bustos regreso a la escuela Hilltop como maestra de Lenguaje Dual de 4o grado y nuevamente perteneció al equipo del Plan de Mejora. También perteneció al equipo que escribe el plan de estudios de Artes Lingüísticas en inglés y en el Comité Conjunto de la Ley de Reforma de Evaluación de Desempeño (PERA, por sus siglas en inglés) del distrito.
En el 2017, la directora Gaitán Bustos asumió su actual cargo como subdirectora de la Escuela Elemental Coleman en Elgin. Allí ella apoyó al director en formar el Plan de Mejora de la Escuela para garantizar que la visión y la misión de la escuela respondan a las necesidades de los estudiantes y de la comunidad. En sus observaciones formales e informales del personal, ella proporciona un espacio que fomenta las conversaciones que les ayudan a reflexionar sobre el aprendizaje y la evaluación basados en estándares, sobre el currículo y las mejores prácticas de enseñanza, usando como punto de referencias las pruebas obtenidas del Marco Danielson. También sigue participando a nivel de distrito, sirviendo como miembro de los Comités del Plan de Supervisión y Evaluación de Maestros y el Consejo Asesor de Lenguaje Dual. La directora Gaitán Bustos trabaja muy de cerca con las familias y las organizaciones de la comunidad para traer sistemas de apoyo a todos los estudiantes a los que sirve.
La directora Gaitán Bustos obtuvo una Licenciatura en Artes en la enseñanza de idiomas de la Universidad LaSalle en Bogotá, Colombia, y una Maestría en enseñanza de la Universidad de Aurora, y otra Maestría en administración de la Universidad Northern Illinois. También participó en el Programa de Aspirantes a la Administración del distrito.
La directora Gaitán Bustos y yo estamos planeando tener una reunión en agosto para conocer a los padres, tutores legales y miembros de la comunidad de Sunnydale. Esperamos trabajar juntas para asegurar que la Escuela Elemental Sunnydale sea un lugar donde TODOS los estudiantes sean bien atendidos y donde apoyemos a nuestros estudiantes para hacerse realidad sus sueños.
¡Les deseo a ustedes y a sus familias un verano seguro y feliz y espero verlos pronto!
Ushma Shah
Asistente al Superintendente de Escuelas Elementales, Instrucción y Equidad
Oficina de Escuelas Elementales/ Distrito Escolar U-46