Welcome to Ellis Middle School/Bienvenidos a la pagina de la Escuela Intermedia Ellis
Return to Headlines
African American Council to Host Session on Talking to Children about Race and Racism
Jan. 14, 2021
Good afternoon School District U-46 community,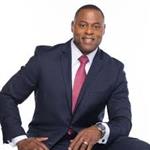 The U-46 African American Advisory Council would like to invite you to attend the final session of a virtual series about "Discussing Racism and Racial Injustices in Your Home." The 60-minute meeting will begin at 6 p.m. Tuesday, Jan. 19.
The speaker is Robert Jackson, an author, educational consultant, former NFL player, and former teacher. Jackson has met twice with the Council this school year and is offering this third session to help Council members and any community members share any final thoughts and/or questions. While Jackson will speak as part of a regular meeting of the advisory council, the program is open to all members of the community. Click here for the zoom Link: https://us02web.zoom.us/meeting/register/tZAvf-6tpzMpH92lnaIG567kVIBP5ywkt9UF
An interpreter will be present for our Spanish-speaking families.
The first session of the series is posted on the District's Equity and Diversity website page. You can find more information on this event, and Jackson's background, at http://www.robertjacksonmotivates.com
We hope you can join us for this third session on this important topic.
As a reminder, Monday, Jan. 18 is a day of non-student attendance (no online learning) as our District recognizes the federal and state holiday honoring the birthday (Jan. 15) of Dr. Martin Luther King Jr.
Sincerely,
Dr. Teresa A. Lance
Assistant Superintendent of Equity and Innovation
School District U-46
---
Buenos tardes comunidad del Distrito Escolar U-46,
El Concilio Asesor Afroamericano se complace en invitarlo a la última sesión virtual de la serie sobre "Cómo hablar en su hogar sobre el racismo y las injusticias raciales". La sesión de 60 minutos dará inicio a las 6 p.m. el martes, 19 de enero.
El orador es Robert Jackson, un autor, asesor en educación, jugador retirado de la Liga Nacional de Fútbol Americano (NFL, por sus siglas en inglés) y maestro retirado. Este año, el Sr. Jackson se reunió con el Concilio dos veces y está ofreciendo una tercera sesión para ayudar a los miembros del Concilio y a cualquier miembro de la comunidad a compartir cualquier reflexión final y/ o preguntas.
Habrá interpretación disponible para nuestras familias que hablan español.
La primera sesión de la serie está en la página web de Equidad y Diversidad del Distrito. Puede encontrar más información sobre este evento, y sobre el Sr. Jackson en http://www.robertjacksonmotivates.com
Esperamos que nos acompañe en la tercera sesión de este importante tema.
Como recordatorio, el lunes, 18 de enero es un día cuando no hay clases para los estudiantes, y tampoco hay aprendizaje en línea, ya que nuestro Distrito observa el día festivo federal y estatal en honor al cumpleaños (15 de enero) del Dr. Martin Luther King Jr.
Atentamente,
Dra. Teresa A. Lance
Asistente al Superintendente de Equidad e Innovación
Distrito Escolar U-46