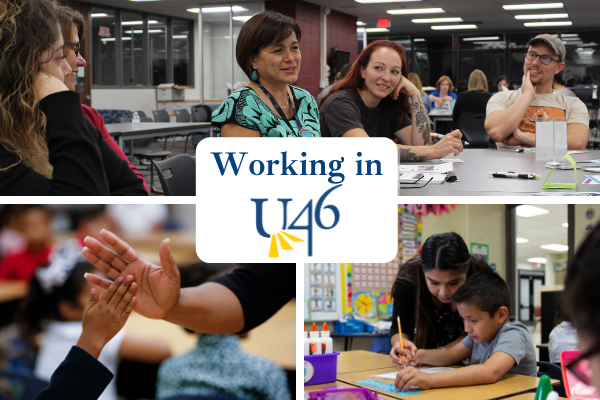 Benefits of Working in U-46
We offer robust professional development with some of the top instructional leaders in the country such as Dr. Doug Fisher and Dr. Catlin Tucker, and speaker Robert Jackson who addressed how teachers can use culturally-responsive practices to increase engagement through relationships, especially with Black and Latino male students. In Summer 2021, we offered a four-day virtual equity symposium with prominent national speakers such as Dr. Gloria Ladson Billings and Dr. Gholdy Muhammad, as well as members of our own faculty. During the 20-21 school year, we offered more than 500 different professional development courses to meet the diverse needs of educators in our District which included leveraging our new Learning Management System, Canvas, to offer self-paced courses on curriculum information and technology tools. We thoughtfully use outside resources, like those at the Illinois Resource Center, WIDA Consortium and Dual Language Education of New Mexico to enrich and expand on our multicultural language support. We proudly cultivate our own experts and provide avenues for them to share what they have learned with other educators. In addition, we also offer opportunities for educators to apply for funding to attend a conference that best meets their own professional development needs.

We host a half-dozen affinity groups so that employees can meet, work and network with people within their own identity group. Affinity groups support the mental health of individuals as well as the health and well being of an organization. A robust equity committee is working with the District to review and update our Equity plan and also implement many of the goals.

Our ongoing commitment to diversity and a multicultural education means that in 2021 we are rolling out high school classes tied to a new Latinx curriculum. For instance, in the Spanish Language Arts Honors Latino/x/s Studies class, students will explore the context and history of how Latinox identity and representation are shaped and influenced in the Americas by an individual's culture, by groups, by institutional influences, and by lived experiences. We are developing similar courses in African American Studies, as well. Additionally, local volunteers and educators provide mentoring programs for girls and boys of color that extend from elementary through high school.

School District U-46 excels in many areas, including our music education program, which ​​​​has been honored with the Best Communities for Music Education designation from The National Association of Music Merchants Foundation for its outstanding commitment to music education. To learn more, watch this video about the program.