Kindergarten Information
To all our Kindergarten Parents: Welcome to Coleman School!

We are as excited as you are for your child to begin his/her grade school experience with us. Since 1954, we have been welcoming our youngest students into a caring and nurturing environment that will also help begin preparing them to become life-long learners. We look forward to sharing with you the journey ahead!

In an effort to provide a "one stop shop" type of information center, below you will find some of the most popular questions that Kindergarten parents have about their child's first year in elementary school. If you don't find the answer to your questions here, please feel free to call the school office and we'll do our best to get your question answered quickly.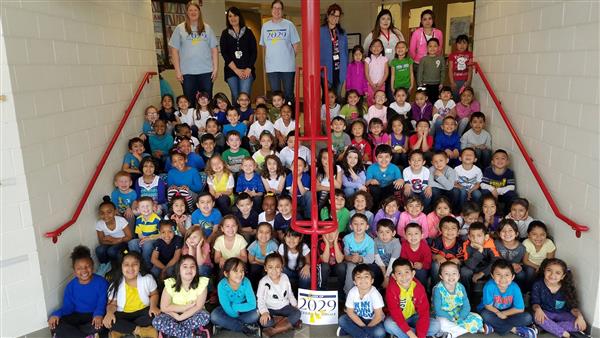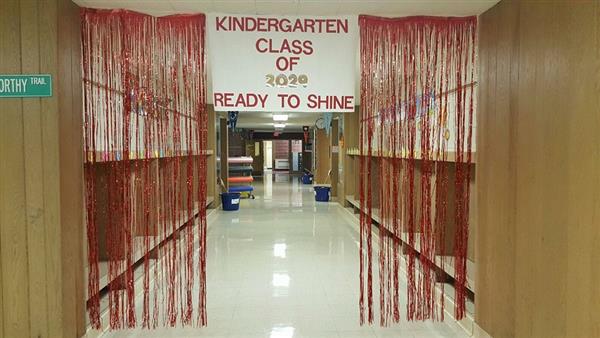 For District information on the Full Day Kindergarten click here

Q: Do I have the option of choosing between the Full Day Kindergarten or Half day program?

A: Yes. At the time of registration you may select either program. The half day proram is only in the AM, beginning at 8:30 am until 10:45 am.

Q: Will we have a chance to meet our child's teacher before school starts?

A: Yes! The more comfortable your child is with the idea of school before the first day, the easier it will be ON the first day. Families are invited to Coleman at a scheduled evening before the first day of school to meet the teacher, see the classroom, and even drop off school supplies. Watch for announcements about this scheduled Meet & Greet in August.

Q: What time does school start and end for kindergarten?

A: The full day kindergarten begins at 8:30 a.m. Kindergarten students arrive to school no sooner than 8:10 and enter either Door #1 (parking lot entrance) or Door #7 (Dundee Ave. entrance). They will line up in the hallway by their classrooms. School dismisses at 2:30 p.m.

Q: Where should I pick up my child at the end of the Kindergarten sesstion?

A: Students should be picked up at the southeast exit (Dundee Ave - Door #8) or Door #1 (parking lot). Those riding buses/daycare vans will exit from Door #3. Coleman does offer a childcare program (Boys & Girls Club) at Coleman which does provide afterschool care for students who are registered for the program.

If your child rides the school bus, you must pick up your child at the designated bus stop. Each child will be required to wear a bus tag each day, with the names of those allowed to pick up on the back of the tag. Any student not being picked up at the bus stop will be returned safely to the school for pick up there.

Q: What can I expect on the first day of school?

A: We know the first day of school can be an emotional time, both for students and for parents. Because of this, we ask that you kiss your child and wave goodbye from the front entrance and not enter the building with your child. As harsh as this may sound, this helps signal to your child that they can trust the teachers/school staff because you are trusting the staff to lead them into the building. After students are inside, you are invited in for some refreshments, introductions to key school staff members and time to answer your questions. We hope you'll join us!

As for the students, the first day is, in many ways, a typical school day. Students will participate in circle time, listening to a book, and beginning to learn classroom expectations. Becoming familiar with the school-day routine is a long process that starts on day one.

Q: Can I have a friend or family member pick up my child?

A: Only those adults who are listed on the Emergency Contact Form in the school office may pick up a child. This form is completed by you at Registration. Any changes in pick-up arrangements must be made in writing to your child's teacher or the school office. Please alert whomever is picking up your child that we will ask for ID to ensure your child's safety.

Q: What does my child need for school?

A: Please check the school supply list for items needed for Kindergarten. Be sure your child's personal items (backpack, coat, snack bag, etc.) are labeled with his or her name.

Q: Is there a dress code for Kindergarten?

A: Coleman School does not have a uniform dress code, but we do ask that your child wear comfortable play clothes that can handle getting dirty once in a while. If you like, you may send an extra set of clothes for your child in his/her backpack in case of spills or an "accident". All clothing should be labeled with your child's name.

Q: Will there be homework in Kindergarten?

A: The main expectation is that you read with your child for at least 15-20 minutes each night. Some teachers also assign a simple journal or some work to reinforce letter formation, literacy concepts and basic math skills. Periodically you may be asked to help your child complete a more involved assignment.

Q: What is the procedure if my child is absent from school?

A: State law requires that parents notify the school if a child is absent. You may contact the school anytime day or night on our 24/7 attendance line (847/888-5190) or emailing colemanattendance@u-4.org. When you call, please leave your name, your child's name, their teacher's name, the reason for their absence and the date on which you are calling. If your child misses school due to a doctor/dentist appointment, you need to bring in a note from the doctor's office with the date of the appointment.

Q: Will my child be with older students at any time?

A: Other than during arrival and dismissal, Kindergarten students are not with older students during the day. Their classrooms are in the primary wing of the building, where there is a separate bathroom and separate recess area that is fenced in. Occasionally, our 5th or 6th grade classes may "buddy" with a kindergarten student as part of their classroom experience. This Buddy Class is a structured 30 minute reading time that is supervised by both the Kindergarten and 5th/6th grade teachers.

Q: May I volunteer in my child's classroom?

A: Absolutely! In fact, we ask that parents make a pledge to volunteer for at least three hours during the school year. This can be done at parties/activities in the classroom, chaperoning field trips, working at school events, or even taking material home with you to organize and prepare for the teacher. If you do volunteer during school hours, we ask that you sign-in at the office first so that we may greet you and give you a volunteer badge. This also helps us keep track of our Volunteer Hours as part of our Family & Community Engagement Plan.

Q: Is there a Parent/Teacher group here at Coleman?

A: Yes. The Parent/Teachers of Coleman (PTC) have long been a part of the planning and fundraising efforts of our school. They provide our families with monthly Family Fun Night activities that vary from Bingo Night & Fall Fest, to a Swim Party and Movie Night. They also coordinate our main fundraisers which include "mini" fundraisers, Book Fair, and our No Cook Nights. All these events take planning and many volunteers. Your help in just volunteering or becoming a committee chairperson or board member is encouraged. You may get more information about whom to contact on PTC at the main office or under the PTC section on our website