Return to Headlines
U-46 to Host Building Tour and Open House as Part of Unite U-46 Initiative
Sept. 20, 2022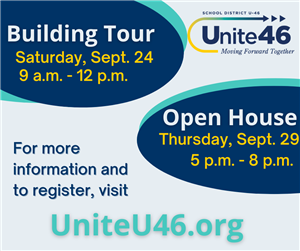 School District U-46 is hosting a building tour and an open house this month as part of its Unite U-46 community engagement initiative, giving members of the public a chance to get an inside look at seven school buildings and provide feedback on three different plans to move U-46 schools forward.
Unite U-46, which got underway last spring with a series of public meetings, is an effort to gather feedback on how to implement the Board of Education's vision to provide equitable access to 21st century learning environments that support academic success for all.
The next step in the initiative is to offer members of the public a chance to get inside U-46 facilities to see firsthand the varied learning conditions at some of the schools, which range from buildings constructed in the 1800s to the early-2000s.
The building tour is scheduled for Saturday, Sept. 24, from 9 a.m. to noon. Participants will travel on school buses from the U-46 Welcome Center, 1019 E. Chicago St. in Elgin, to three sites: Garfield Elementary School, Hilltop Elementary School, and Ellis Middle School. Space is limited for this option, and reservations are required via this online form.
The open house is scheduled for Thursday, Sept. 29, from 5 p.m. to 8 p.m. Participants can stop by any or all of the following buildings for a self-guided tour: Eastview Middle School in Bartlett, Glenbrook Elementary School in Streamwood, Horizon Elementary School in Hanover Park, and Willard Elementary School in South Elgin. Attendees can also learn more about Unite U-46, talk with principals and school district leaders, and provide feedback about plans for the future of our schools.
"I encourage all those who live within the U-46 community to participate in Unite U-46 however best works for their life and schedule - attending our meetings in-person or virtually, watching presentations later by video, or attending the building tour or open house," said Superintendent Dr. Tony Sanders. "Whether you have a child in U-46 or not, this is an important process that will dramatically impact the future of our schools and the greater community."
Unite U-46 grew out of the District's work to develop a long-range plan that assessed U-46's infrastructure, classrooms, and overall facility use, efficiency, and readiness in order to meet the District's vision of:
Shifting its middle school model to include grades 6th, 7th, and 8th, rather than just 7th and 8th grades, as they are currently structured;

Expanding the preschool program across the District;

Retiring, rebuilding, repurposing, or remodeling some of the District's oldest school buildings to provide equitable access to learning environments that support academic success for all.
More information about Unite U-46, including the building tour, open house, and videos from past community presentations, can be found at UniteU46.org.