Return to Headlines
Sunnydale Students Use Legos to Create Lincoln Portrait
Feb. 10, 2020
An art project at Sunnydale Elementary School really "clicked" for 4th grade students this winter when they used approximately 4,000 Lego pieces to create a large-scale mosaic of President Abraham Lincoln.
The students got hands-on experience with mathematical concepts around grid enlargement, coordinates, and image resolution, said Sunnydale art teacher Eric Borchardt, but the project also inspired conversations about Lincoln's place in history.
"In all, it was a very unifying experience that I think Lincoln would approve of," Borchardt said.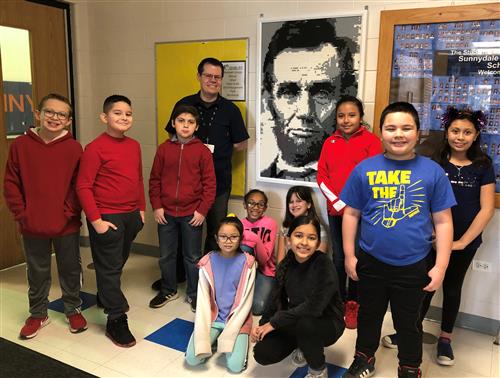 The black-and-white artwork, which measures about 30 by 45 inches, was put up for display in the Streamwood school's entryway just a few weeks before the anniversary of Lincoln's birth on Feb. 12, 1809.
The idea for the project came from trips Borchardt took with his own elementary-aged boys to some Lego exhibits in the Chicago area, where he noticed mosaics and wondered if he could design a collaborative art project for his students.
After developing his lesson plan at the beginning of the school year, preparing an 1863 photograph of Lincoln to create the necessary color-scaled grid, getting funding approval to purchase the Legos, and coordinating with the 4th grade teachers on how this project could connect to other curriculum in their classrooms, the students' work got underway in mid-December.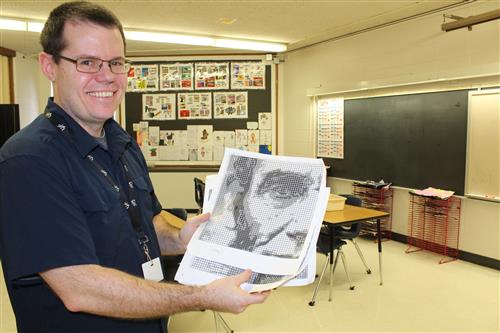 "We got off to a slow start in our first week and I had a moment of doubt, but once the kids found their rhythm, I was amazed at how much progress we made each week," Borchardt said.
There are three sections of 4th graders at Sunnydale, and during their art classes with Borchardt, he would divide them into groups of three to five students to work on one of the six panels that comprises the portrait. The students rotated among the necessary roles — some would decide what "value" (white, black, light grey or dark grey) to use for a given tile, some students located pieces and decided what size pieces to use, others placed the bricks into position. When it wasn't exactly clear what color and size brick should be used, discussions, compromise, and shared decision-making was required.
Fourth grader Edwin Gonzalez said he knew that creative differences would be a challenging part of the process.
"I thought 'This is going to ruin some friendships and this is going to make some friendships!'" he laughed.
On a recent visit to Borchardt's classroom, Edwin and nine other 4th grade students bubbled over when they talked about creating the mosaic.
"I was so excited, but I didn't want to mess up on the project," said Jordan Hertko.
"I went to a store and bought a Lego set beforehand so I could practice," said Jurely Nunez-Estrada.
When the six panels were placed together, the students said they were amazed at how much their Lego creation looked like the portrait of Lincoln they had chosen.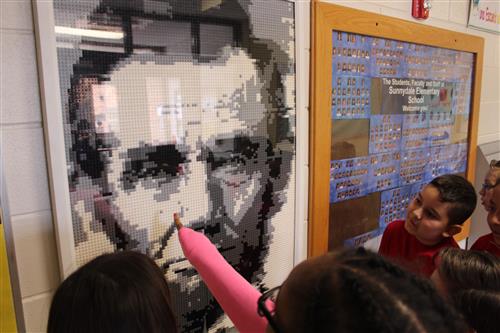 "I didn't think it would be so detailed," said Brooklyn Salgado.
"It looked like a real picture," said Christian Rodriguez. "I can't believe we really did that!"
Borchardt credited the Sunnydale 4th grade teachers for seeing the educational value of the idea, Principal Dr. Maria Valdovinos-Bhatia for her encouragement of collaborative projects, and Jaimie Giraldo, the Fine Arts Coordinator for School District U-46, who made the purchase possible. The Legos were bought with a fund allocated for reusable resources, which means the portrait will be taken apart next winter so the Legos pieces can be re-used for a new mosaic.
Meanwhile, the current Sunnydale 4th grade class is looking forward to their field trip to Springfield in May to see Lincoln's home.
"It's going to be so fun!" said Sarah Rizvi, 9.