Return to Headlines
Motivational Speaker to Talk to Students and Families at Larkin High
Feb. 13, 2020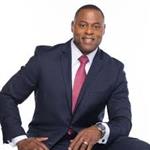 As part of School District U-46 events celebrating Black History Month, an acclaimed motivational speaker and educator will speak to U-46 families about how students can succeed both inside and outside the classroom.
Keynote speaker Robert Jackson is an author, educational consultant, former NFL player, and former teacher. Jackson will be the main speaker at Larkin High School on Monday, Feb. 24 for an event titled "Refocusing Our Vision: Honoring Our Legacy and Pursuing Promise in Our Children." During the event, which starts at 6:30 p.m., Jackson and District officials will recognize 22 African-American students from across U-46's five comprehensive high schools who have earned a cumulative grade point average of 3.5 or above as of last semester.
Earlier in the day, Jackson will offer a professional development session for U-46 staff members at Larkin High School. Jackson will speak on the topic of culturally responsive practices to increase engagement through relationships. Jackson helps educators employ the core beliefs and values necessary to best serve Black and Latino male students and become the educator that these students need.
He was also a guest speaker at a U-46 Black History Month event in February 2019.
"We are excited to welcome Robert Jackson back to School District U-46. He serves as an inspiration to students and provides a thoughtful perspective on pursuing goals," said April Wells, the District's Coordinator of Gifted Education. "We are also proud to recognize the academic excellence of our African-American seniors. It is important to highlight their dedication and accomplishment."
During Jackson's teaching career in Indianapolis Public Schools, he refused to let his students feel sorry for themselves or let their circumstances define their futures. He speaks and teaches on topics of cultural diversity, restorative practices, socio-emotional learning, and how to retain troubled students in school. He challenges parents to take a more active role in their children's education, and he works with students to overcome hardships through discipline and accountability.
Mr. Jackson's visit supports the District's ongoing Equity work. The District's Equity Plan was approved by our Board of Education in November. A diverse committee of U-46 team members are working to raise awareness of the Plan's purpose and objectives, to monitor its implementation, and to share and address our progress toward ensuring equitable practices throughout every area in our District.