Return to Headlines
Board of Education to Honor South Elgin High Cheerleaders, DREAM Academy Student
April 1, 2019
ELGIN - The School District U-46 Board of Education Monday night will recognize two students from South Elgin High School who were named to the US National Junior Coed Cheerleading Team and a student from the District's alternative high school who recently received a statewide award.
Edwin Vargas, a senior at U-46's DREAM Academy, received in early March the 2019 Outstanding Student Award from the Illinois Coalition for Educating At Risk Youth (ICEARY). Edwin was nominated for the award by DREAM Academy teacher Karen Tobin.
"Edwin represented U-46 with honor at this event," said Krystal Bush, principal of DREAM Academy. "He has overcome struggles in his life and possesses a strong determination to work toward a successful future. We could not be more proud of him."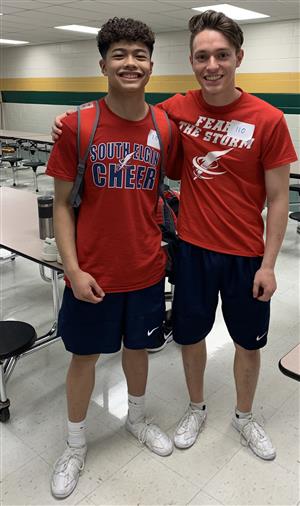 Also to be honored by the BOE are Thomas Justin "TJ" Ramos and Tristan Cruz, both juniors who cheer for South Elgin High School. They tried out for the US National Junior Coed Cheerleading Team in early February — vying with about 100 athletes from all over the Midwest for one of 28 spots. The national team will compete against teams from around the globe at the International Cheer Union World Championships, scheduled for April 24-26 at the ESPN Wide World of Sports Complex at the Walt Disney World Resort in Orlando, Florida.
Savannah Bennett, the head varsity cheer coach at South Elgin High, said both TJ and Tristan have innate talent but also an incredible drive to excel.
"Tristan is a phenomenal athlete, who has a contagious positive energy," she said. "Even during a tough practice, he's on the mat encouraging his teammates and putting in 100 percent effort. He's definitely a role model to a lot of our younger athletes.

"TJ is a natural born leader, with a skill level that is absolutely insane. He's constantly striving for excellence and pushes his teammates to be their best," she said. "You will never catch him slacking at practice nor will you ever hear him complain."
Edwin, TJ, and Tristan will receive an Accent on Achievement certificate at 7 p.m. Monday, April 1 in room 140 of the Educational Services Center. The U-46 Board of Education Meetings are always open to the public and they stream live on YouTube.