Return to Headlines
U-46 Offers 'Breakfast for All' at More than 20 Schools
Aug. 13, 2019
As School District U-46 opens the doors for a new school year, students at 22 buildings will be able to enjoy a free breakfast meal before starting their school day.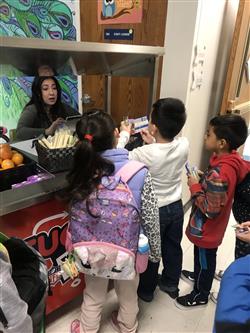 Twenty-one elementary schools and one middle school are now participating in the "Universal Breakfast" program, up from 14 elementary schools last spring. The program is an option at schools with high rates of free or reduced-priced eligible students in the federally-funded School Breakfast Program. The U.S. Department of Agriculture reimburses U-46 for each breakfast it serves, with higher reimbursements for reduced and free meals.
"Studies have shown that students who eat school breakfast have improved math scores, attendance, punctuality, and decreased anxiety, depression, and hyperactivity," said Elena Hildreth, the director of the U-46 Food & Nutrition Services Department. "Making the breakfast program open to all students at a school — whether they qualify for reduced or free meals — eliminates the stigma for many families."
Because reimbursement increases with student participation, U-46 determined during the 2018-19 school year that it could make universal breakfast work financially in at least 70 percent of its 40 elementary schools, as well as several middle schools, Hildreth said.
In addition, for the first time, 15 elementary schools will be offering free dinners to students enrolled in the SAFE after-school childcare program during the 2019-20 school year. These meals are made possible by the At-Risk Afterschool Snack/Supper program, which is part of the USDA's Child and Adult Care Food program, and reimbursements from the state of Illinois.
The breakfasts at most U-46 schools are served from a cart near the school entrance, and they feature fresh fruit, cheese sticks, muffins, donuts, and cereal pouches. Students make their choices and then eat in the classroom. Some sites are having breakfast delivered to the classroom in coolers.
To cut down on prep time and mess, nothing hot is served for breakfast, and the items can often be saved for a snack later in the day if a student doesn't feel hungry first thing in the morning, Hildreth said.
Willard Elementary School in South Elgin started offering universal breakfast after spring break in 2019, said Principal Dustin Covarrubias. The school's lunch lead, Susan Johnson, and assistant lead, Amanda Campbell, prepare a cooler bag and crate every morning full of juice, fruit, milk, and a breakfast item, and then walk them to each room before the school day starts.
As Willard students walk into class, they can grab a breakfast and start working on the first assignment for the day. Two students from each room bring the cooler bag and crate back to the cafeteria. Teachers keep extra fruit and breakfast items in the room in case a student gets hungry or comes in late. Each teacher has set up a system within the room to make sure all garbage is put in the trash can and instructional time is not lost. The goal is for students to be done with breakfast before morning announcements are complete, Covarrubias said.
"Parents, students, and staff have all seen benefits," he said. "Parents now know they have one less thing to worry about in the morning. Students know they are going to get to eat breakfast everyday."
And when Covarrubias surveyed teachers for their feedback, he said he heard that students enjoyed the food and ate most of it, or saved a food item for a late morning snack. Teachers said that the program brings their class together like a family in the morning, and that it is just a great way to start the day.
Hildreth said the program has not experienced any downsides, and that it involved a minimal amount of additional work for the Food & Nutrition Services team, who are pleased to help students start the day off right.
"Building partnerships between schools and food service is the key to success," she said. "It is all about the student!"