Return to Headlines
U-46 Early Childhood Educator Earns Fellowship
Jan. 10, 2019
ELGIN - A District U-46 educator who helps young learners build a strong foundation for classroom success has earned a fellowship with a national organization that seeks to improve educational policy and school practices.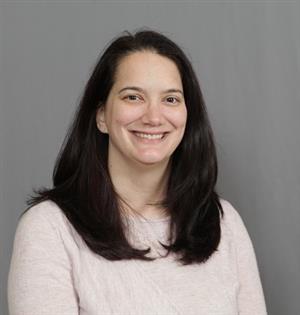 Erin Jackle, the District's transition facilitator for early learners, is among 20 professionals from across Illinois who has been named as an Early Childhood Education Fellow by Teach Plus, a nonprofit organization of more than 15,000 teachers from across the United States.
"I'm excited to have the opportunity to learn more about policy that impacts our youngest learners," Jackle said. "I hope to use my experience in U-46 and my expertise in early childhood education to help leaders develop policies that best serve young children and their families."
Jackle and other fellows will spend seven months together pursuing policy and advocacy on pressing issues that affect early childhood education policies in Illinois. Those will likely include adequate funding for programs and teaching staff, as well as training and professional development to ensure that the state's early learners have access to high quality programs.
The group is the first fellowship in Illinois announced by Teach Plus.
Jackle began working in U-46 in 2004 as an early childhood special education teacher. In 2013, she moved into the role of instructional coach and in 2016 took on her current role.
As the District's transition facilitator, Jackle provides support to families of children who are entering kindergarten, and she works with kindergarten teams developing and implementing strategies for students who may be experiencing difficulties adjusting to the classroom. She also interacts with parents, answering their questions and holding informational meetings about kindergarten. Jackle will continue in her role during the fellowship, which comes with a stipend of about $1,600.
District U-46 offers a robust Early Learners program, headed by Director Peggy Ondera. It's a collaborative effort that brings together District staff, families, and the community to meet the needs of students. The program offers academic, motor, and social skills development in both English and Spanish language to ensure early learners get off to a good start in the classroom.
Jackle was named an Early Childhood Education Fellow on Jan. 7, 2019. In addition to fellows who work in schools, fellows are employed in childcare centers and group family home centers.